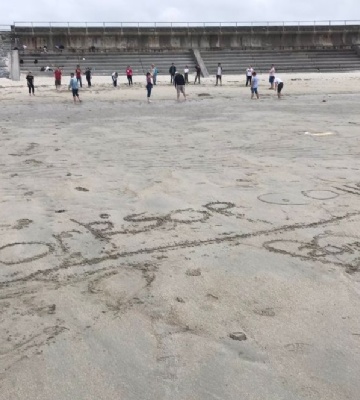 Yesterday, the Worksop College Chapel Choir were live on the Jenny Kendall-Tobias show, BBC Radio Guernsey. We caught up with Music Department Administrator, Dr Walters, who gave us a rundown of the broadcast.
"The Choir sang live in the studio the 'Agnus Dei' from Palestrina's Missa Aeterna Christi Munera (which frequently features in College Eucharist services) and an extract from Bohemian Rhapsody, both on the programme for the choir's concerts in Guernsey. Two tracks from the choir's most recent CD were also played.
Jenny Kendall-Tobias interviewed Director of Music, Mr Uglow plus L6 pupil Dominic Leach and his brother OW Ollie Kaiper-Leach (whose Guernsey resident grandparents have been associated with Worksop College for several generations and have kindly sponsored the tour), and U6 Leaver Emily Zehetmayer.
The presenter was impressed by the pupils' obvious sense of love for their school, and wanted to know what made Worksop College so 'loveable'. Pupils discussed with enthusiasm the sense of community, interesting teachers who care about their progress, the wide variety of activities that the whole community takes part in together, the house spirit and the sense of a 'school family'. There followed a discussion of the excellence of the food at Worksop College!
Former Head of Choir OW Ollie Kaiper-Leach was interviewed about his blossoming career in music theatre, and Mr Uglow spoke of his pride at the number of OW's who go on to study Music at University or Music College.
The broadcast concluded with a birthday message and rendition in four-part harmony of Happy Birthday for Mr Uglow's daughter Lucy, which was described by presenter Jenny Kendall-Tobias as 'the best Happy Birthday I've ever heard sung in my life'."
Listen to the broadcast HERE, the feature starts at 1:09.