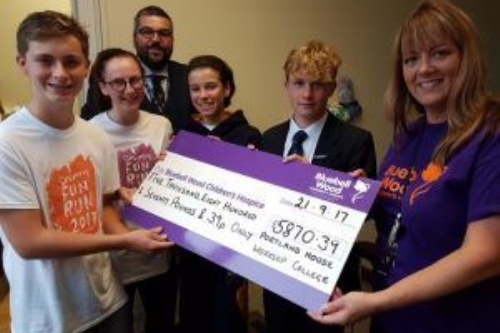 Our Year 7 and 8 Portlanders have been busy raising money for 'Bluebell Wood Children's Hospice'. Our pupils have raised a total of £5,870, which will be used to help other children enjoy some special experiences.
Portland House have spent the last year fundraising for the charity that supports children and young people with life-threatening conditions in Worksop and North Nottinghamshire.
Bluebell Wood will use the money, raised through cake sales, an auction and raffles, for its care team to take children on day trips.
Mr. Reynald Guillaud, Housemaster, Portland House, said:
"We've been so impressed by our students' dedication. They have worked hard all year coming up with ideas and taking part in events. It has been important to them to help children less fortunate than themselves. We're really pleased with the amount raised so far and delighted it will be used to help Bluebell Wood children have some great experiences."
"Thank you to everyone at Worksop College for reaching this amazing total. One of the most important things we do is help our children and young adults to create special memories and this money will help us do just that.
Melanie Rose, Community Fundraiser, Bluebell Wood: