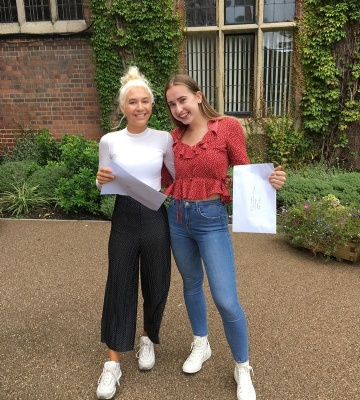 Almost a week on from A-level Results Day and the Sixth Form Team is celebrating the news that, as well as a 100% pass rate and a 7% increase across the highest grades, 55% of the university destinations of Worksop College students are Russell Group universities.
Head of Sixth Form, Nick Kitchen shares the news that this is a record for the school.
"The previous record was 48% in 2014," he says. "We are particularly proud as we are a broad-ability school and don't 'select' pupils based only on academic potential."
Students will be attending 14 different Russell Group Universities, including Oxford, University College London and London School of Economics, Durham, Bristol and Edinburgh, and they will be studying a huge variety of courses, ranging from Chemistry, Computer Science and Criminology, Medicine, Neuroscience and Physics, to Classics, Economics and Politics and English Literature, Law, Modern Languages, Music and Philosophy!
Our four pupil Heads of School are all Russell Group-bound. Captains of School Jorge Stevenson and Ella O'Reilly are going to LSE to study Mathematics, Statistics and Business and Exeter to study Geography. Amongst other things, Jorge was part of our highly successful School 1st XV. Ella was Captain of Hockey and part of the England player pathway.
Vice Captains of School, James Recaldin and Freya Webster are heading to UCL to read The Ancient World and Edinburgh to read History. James was a key cog in the school musical scene, not least in our production of 'Les Miserables', and Freya was Captain of Netball.
Eddie Turner-Bennett will study Accounting and Finance at LSE. Eddie, one of our golf scholars, played for England and reached 6th place in the European junior golf rankings. Nancy Pei, another School Prefect and able musician, including with her native guzheng, has a place to study Chemical Engineering at Manchester University.
Nick puts the success down to an innovative, individualised and focused approach over the Sixth Form.
"Every student has a specialist Sixth Form Tutor", he explains. "Working alongside Houses and Departments, the Tutor develops an in-depth understanding of the student, supporting and, more importantly, challenging them to achieve, and even exceed, their targets".
"Recent changes to the way A-levels are assessed has added an extra dimension to our approach. Focusing on the combination of academic and emotional needs, to help our students with the calm required to rise to the challenge of linear examinations, we have developed PRE (Preparation, Review and Exploration) and SSN (Sleep, Simplify, Nourish). The new Sixth Form Centre is a massive boon."
The support and challenge was particularly apparent last week. U6 parents attended a special meeting with the Team to help prepare them to support their children through what is undoubtedly an extremely stressful time, and then, from 7am on the big day itself, the Sixth Form Team was on-hand to help students with the best possible university options whatever their results.
"Results are part of a much broader picture", Nick concludes. "Universities, and indeed employers, are looking for well-rounded individuals with emotional intelligence. We are a school that places an immense focus on this, not least within the context of humility, one reason for the success of our students, academically and more broadly, both at university and beyond. The recent coverage by the Telegraph, looking at England Cricket Captain Joe Root's time with us is a case in point. We develop well-rounded, resilient and humble members of society. "