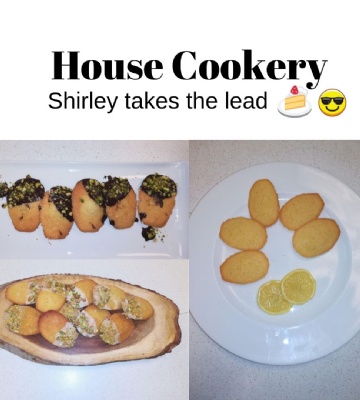 A closely fought competition last night, with very little to choose between the Houses. All Houses prepared, baked and presented their madeleines in the given time - some with literally seconds to spare....
The results
1st Place - Shirley
2nd Place - Gibbs
3rd Place - Mason

What the judges said:
Mason
Vanilla Madeleine, dipped in dark chocolate and a pistachio crumb.
"The dark chocolate and pistachio decoration was an attractive addition to the madeleines. Unfortunately, the time constraints meant the chocolate hadn't set and caused the sponge to become slightly soggy, this may have been exacerbated as the madeleines were a little undercooked, and some had stuck in the pan.
The sponge had a good vanilla flavour, but it was felt this was overpowered by the chocolate / pistachio combination."
Shirley
Lemon Madeline
"A very simple yet effective presentation that showed off the madeleines to their best. Little evidence of the distinctive bump. The sponge had a good lemon flavour, was light in texture with a crispiness to the edges."
Gibbs
Lemon Madeleine with lemon drizzle and pistachio crust.
"We liked the use of the wooden board to serve however, the brief stated 'serve six identical madeleines' - all 12 were served. Again, the idea of the dipped madeleine was good, but the icing was a little thin so had soaked into the sponge and the crushed pistachio was uneven. Some of the madeleines had evidence of the 'bump' this could have been taken advantage of in the presentation.Overall the sponge had a good lemon flavour, but this was overpowered by the lemon icing which was very sweet."
Heat 2 beckons, but who will be victorious? It's all to play for...