Last November, Year 11 pupil, Ben Tomlinson (along with other young people from Retford and District Lifesaving Club) travelled to Adelaide, Australia to compete in the International Lifesaving Federation's World Championships.
The International Life Saving Federation (ILS) is made up of aquatic lifesaving organisations from around the world and together lead the global effort to reduce injury and death in, on, or around the water.
The ILS World Lifesaving Championships are the world championships for lifesaving sport events and are held every two years.
Ben won two Gold medals at the event - one in the Simulated Emergency rescue Competition and the other in the Youth 12.5 m Line Throw. This was a new national record, which he then went on to break at the Leeds Speeds Championships, just before half term.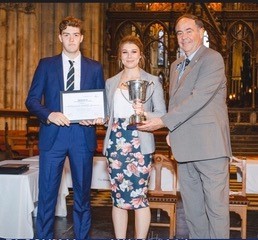 Ben was recognised for his efforts at the National Honours in Worcester Cathedral on the 19th October, with a Certificate of Merit for his contribution to Lifesaving.
Headmaster Dr John price, said: "What a fantastic achievement, Ben should be very proud."