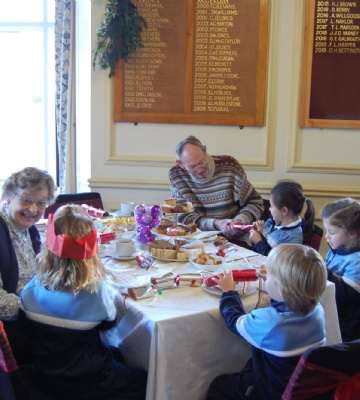 Reception children entertained some special visitors today as retired residents from Charter Court were hosted at the school for a 'festive afternoon tea'.
The event was organised by Reception teacher Adam Newton who firmly believes in the benefit of bringing generations together.
"There have been countless studies - all pointing towards a positive impact for both groups, "said Adam.
"For children, it helps develop their social skills; teaching them to slow down, to listen and to be patient. For older people, many studies link social interaction with decreased loneliness, as well as incredible physical benefits as well. The sharing of knowledge between these two groups is fascinating to watch and in many ways can teach tolerance and understanding that goes both ways."
Jane Jackson, House Manager at Charter Court, said: "It's such a lovely idea. They're were all very keen to meet with the children. Everyone was excited and looking forward to it. We have a range of ages of residents who went along, from those in their 70s up to who one lady who is 94 years old!"
The children of Ranby House were excited to greet their guests, serving cake and biscuits and sharing a board game or two.
"I have thoroughly enjoyed the day, and being with the Children. It has been absolutely wonderful!", said Carter Lodge Resident, Sonia.
For Mr and Mrs Thomas, the visit was even more poignant – the couple's children attended the school over 40 years ago.
"It has been an emotional day visiting Ranby House, as our two sons – Richard & Christopher – attended the school in the 1970's", said Mrs Thomas. "They both went on to Worksop College when they were 13 years old, and were in Pelham House. Being here has brought back many happy memories, and our sons were very excited to hear that we were coming! We hope to visit again with Richard and Christopher soon."
For the children, it was a great experience – with 5 year old Noah, saying: "I feel happy that I made them happy."
4 year old Arthur had more practical things on his mind, remarking, "We didn't have presents for them, but it's ok. Santa has them and he can fly with his reindeers and get them there on time."
Find our more our approach to education for Reception-aged children, click, here.