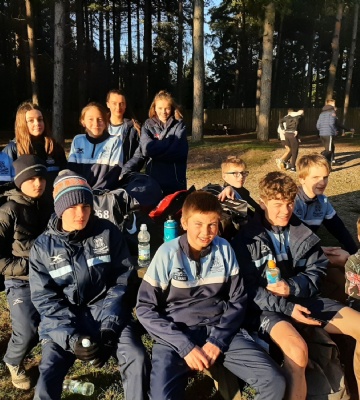 It was a great day for College athletics on Wednesday 4 Dec - we saw 12 Worksop College runners head to the District Cross Country Qualifiers at Sherwood Pines.
"The goal is to finish in the top 12 of your district, which enables you to attend the County Cross Country Championships in the New year at Berry Hill," said Ian Parkin, Head of Sports Performance.
The course posed an interesting challenge for the runners, with some areas holding frost and the more densely wooded areas being quite muddy, narrow and challenging underfoot.
The number of runners also presented challenges - creating a fast and chaotic start, however, the team pulled through - 10 of them making it through to the next stage.
The standout run on the day was from Amelia Chrispin who won the 4-district event, but others also impressed.
Jake Biggin was 4th in his race and was the first Bassetlaw runner to cross the line. Alex Bett finished fifth, qualifying 2nd for Bassetlaw and Joe Parkin matched that, achieving 2nd for Bassetlaw in the Year 7 boys race.
Kristian Bak (5th) James Tomlinson (9th) and Lee Hollweg (12th) also made it through to the next stage in their respective races, while Lara White (4th in Bassetlaw) Abbi Bellis (5th) and Olivia Payne (12th) all ran really well to ensure a passage to Berry Hill.
George Hardy ran well in a very competitive Year 8 and 9 race, just missing out on qualification, but his mood was lifted when on the very same evening he scored the opening try for the under 13s in the county cup at Southwell Rugby Club. The team overcame Southwell Minster and Ashfield School in the round robin stages of the same tournament.
Head of Sports Performance Ian Parkin said:
"It was a cracking afternoon at Sherwood Pines with some really strong runs. It was great to get so many through to the next stage, some of our runners have a realistic chance of going further in the process.
It was a very busy day for sport overall - we also had hockey fixtures in the afternoon and a county cup rugby match on the same day.
Logistically, it was tricky as we had to then get back from the cross country, get to Southwell Rugby Club and be back at school again for the annual Rugby Dinner – a celebration of the achievements of another season. I suppose that is what schools like ours are all about!
It is great when the pupils take advantage of as many of the opportunities that are put in front of them."