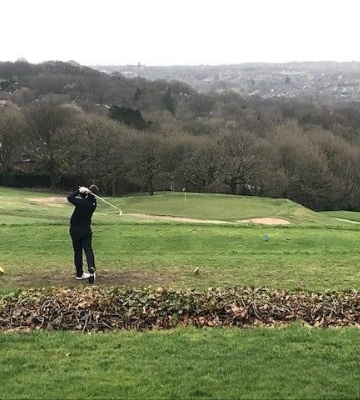 Last week our golfers competed in the HMC foursomes regional semi-finals against Bolton School. The match was played at a wet Bolton Golf Club on Wednesday 11 March.
Leading the way for the College was Joe Turner-Bennett (Captain, Y12) and Will Smith (Y11). They took a commanding lead winning the first 5 holes. Unfortunately, the deterioration of the weather was matched by the scoreline, as Joe and Will proceeded to 4 holes in the next 6. However, over the back nine, Joe and Will showed their experience and putting prowess to seal their match with a 3 and 2 victory.
In the second pairing, Reuben Tennant (Y8) and George Cooper (Y5) took on competition considerably older than themselves but managed an early lead being 4 up through 6. Yet again, the bad weather hit and the scoreline went in the favour of Bolton School. Another back nine rally saw Reuben and George go into the last 3, 2 up. However, 3 long holes to finish saw them halve their match.
Hugo Sander (Y12) and Max Beahan (Y12) competed in the final match of the day. The bad weather didn't faze this duo as they were able to extend an early 2 hole lead to 6 up through 9. Although, they did become a little complacent as they went from being 6 up with 6 to play to eventually win 4 and 3.
Director of Golf, Mr Cook said,
"The match was played in good spirits, despite the weather, with both sides representing their schools impeccably."
The team progress to the regional finals with a 2.5 vs 0.5 victory, where they will play either Sedbergh School or Merchiston Castle School.
Mr Cook continued,
"Before the finals, the team will be practising in the rain so that they don't let another early lead slip, something the boys will look forward to I'm sure!"