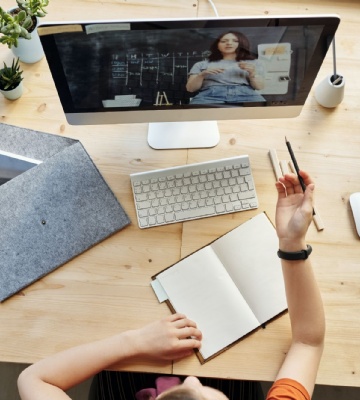 It's been a very different start to the Summer term this year and our students and staff have adapted to the situation wonderfully.
As remote learning continues across our schools, here are some tips for making the most of your workspace at home.
Have the right tools
Before you sit down to start the day, check that you have all the things you need available to you.
This could be a pen, textbook, a mid-morning snack or a glass of water to stay hydrated.
Make it comfortable
Sitting in the same place for every lesson is certainly a new experience; therefore it is very important that your spot is comfortable.
To help your posture, position your monitor so that the top of the screen is at your eye level.
Let in as much natural light as possible to ensure your space is well-lit.
Keep it tidy – a tidy desk is a tidy mind!
Stick to schedule
Keep a copy of your updated timetable open throughout the day.
Be online in time to start lessons promptly, making sure you have completed your/prep/reading/research.
Avoid distractions
It's very easy to get distracted when working from home - to avoid this, set yourself some rules.
Clear the clutter and only have the things you need on your desk.
Turn your phone off (Tik Tok isn't going anywhere!)
Create a 'Do Not Disturb' sign so your family know when you're in a lesson.
For more guidance on adjusting to home learning, read our 'Tips for working at home' blog HERE.