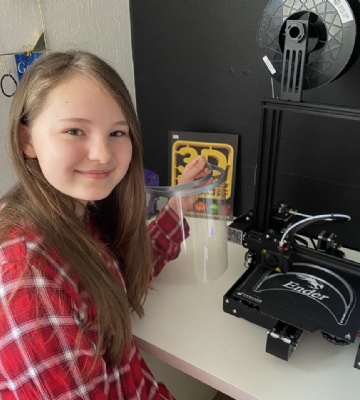 In just 36 hours Worksop College has raised over £5,000 worth of equipment to increase production levels of visors, thanks to the support of former students of the school.
The college has been working daily to make personal protective equipment for NHS staff battling coronavirus, a project initiated by Head of DT Gary Duckering. It comes as a national shortage of Personal Protective Equipment (PPE) for NHS staff on the front-line has resulted in many key workers suffering injury from wearing uncomfortable equipment for long hours, or going without vital protective wear at all.

The school had been funding the initiative from existing materials to produce 10 – 12 protective face visors a day to help local hospitals and surgeries in the UK, using an existing 3D printer. College staff invested in an additional two printers to increase production levels but put a request out for support in order to increase production levels even further.

The school have been overwhelmed by the generosity shown by their alumni community, providing an additional £5,000 worth of equipment, including 13 3-D printers.
And it's not just the Old Worksopian community who are doing their bit. Year 8 pupil Grace Galbraith is making visors using her own 3-D printer at home, after getting in contact with the school to ask for the pattern.

Headmaster, Dr John Price said; " We are incredibly grateful for the support our Old Worksopians have shown us; it is testament to the strong community that exists both inside and outside the school. The additional printers and materials required to produce the protective visors will enable us to increase our production significantly, making a huge difference to those who need them most in the region."

Local NHS providers who are seeking support for PPE are asked to send requests to Lucy Smithson at l.smithson@wsnl.co.uk