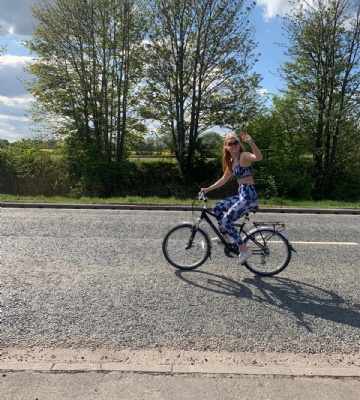 Keen to do their bit to support charities affected by COVID-19, and inspired by Captain Tom Moore, the girls and staff from Derry House at Worksop College have launched the 'Derry to Singapore' Challenge.
125-year old Worksop College enjoys a rich cultural make-up, with pupils from around 30 different countries represented across the student body.
Derry House (a girls' house of 40 pupils) is no different and although scattered across the globe at the moment, the pupils and staff wanted a way to stay connected, whilst raising money for 'Make a Wish UK', (the House charity for this year) and the NHS.
Housemistress Charley Phillips, explains:
"We're aiming to run, cycle, ride or walk the 6751 miles between here and Singapore which is the home of Megan - the Derry girl who is the furthest away from Worksop College at the moment. We are aiming to 'reach' Singapore by 1st July, our end of term. We've calculated that each member of the house needs to cover 146 miles each during the 10-week period, which translates to about 15 miles per week."
Lucy Gratton, a Year 12 student, who is helping to organise and manage the event, describes her motivation for setting up the challenge:
"As a Derry girl myself, I believe that this is a great opportunity to get involved and keep fit and healthy during this time of stress and uncertainty, whilst also raising money for charities that are working extremely hard to help those vulnerable and in need. It is nice to see so many girls getting involved with this challenge, because it enables us to all still keep in touch as a close community, even though we can't all be together."
The team has made a great start – launching the campaign just five days ago, they have already covered 324 miles. House Captain Florence White has chosen to cover her miles through a combination of cycling and walking on her daily exercise in South Yorkshire, and Year 13 full boarder Mathilda is contributing her miles on horseback in Germany! Meanwhile in Singapore, Year 12 full boarder Megan is making the most of her surroundings by clocking up her miles walking around Gardens by the Bay.
"I'm really proud of the girls", said Charley. "Team Derry are such a close-knit community and it's really lovely to be able to connect across the globe like this, whilst also being able to give something back to those in need."
Keep updated on the progress by following the hashtag #derrytosingapore across Instagram (@derryhouse) and Twitter (@derry_house). Donate to this fundraiser by visiting https://uk.virginmoneygiving.com/Derryhouse