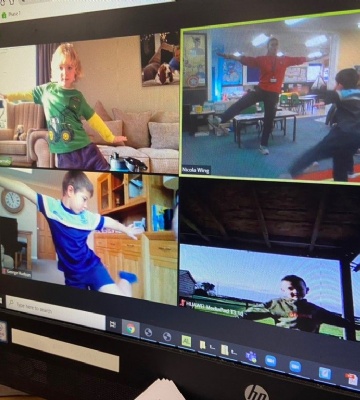 As we continue through lockdown, the impact on very young children's emotional development remains at the forefront of our pastoral care at Ranby House. It is essential to ensure that student's timetables are packed with face-to-face opportunities to combat the negative impact of isolation.
Headmaster at Ranby House, David Thorpe, who has worked at Ranby House for nearly a decade, said he was seriously concerned about the social development of young children, who are missing vital steps in their learning journey due to lockdown.
"Many 4 and 5-year-olds have spent nearly a quarter of their lives in a partial or full lockdown, with social events axed, the opportunity to interact freely with other children put on hold and the 'play date' routine cancelled indefinitely. It is concerning as we know how intrinsically beneficial it is for the first five years of a child's life to be full of nurture, exposure to a range of core stimuli and experiences.
During periods of Lockdown, we are acutely aware that we must ensure that we provide face-to-face learning opportunities for our younger children – both from the teacher and with each other.
In Reception, our youngest of compulsory school-aged children, have a mixture of live lessons and pre-recorded sessions such as story-time, Music and PE. This hybrid model's benefit is that it supports parents to balance work commitments, child care, and supervising schooling by accessing learning at a convenient time. "We understand that many of our parents have to work alongside home-schooling, so our programme is flexible enough to help support the whole family during what is a stressful and worrying time".
Across the school, we are offering a full timetable, delivered by class teachers and subject specialists. We communicate with parents with regular updates and provide 'drop-in' sessions to provide extra support for children. And it's not just lessons – the school has continued with weekly online Assemblies and Chapel services, where children can 'raise their hand' within the live event – creating that all-important interaction and engagement.
Mr Thorpe sees it as vitally important to maintain a sense of community and belonging during lockdown. "As well as a weekly Chapel service, we've made sure we still have our weekly remote assemblies via Zoom or Teams, where I share pictures and examples of the students' current work and achievements. Children' unmute' and talk about their successes and learning experiences. Until we can all be together at school again, we must do all we can to create a sense of togetherness from afar, and we have found a regular assembly helps us achieve this. Staff, pupils and parents, share projects and by celebrating the efforts of the Ranby House community, all the attendees – many parents and children, will get ideas and suggestions of adapting learning tasks or trying something completely new."
"Schools are communities, and our strong parent, teacher and child relationship is intrinsic to what makes us successful."
Mrs Robson, mum to Barnaby, age 4 is delighted with the school's approach and grateful for Reception teacher Mr Newton's enthusiasm and support for parents.
"For us, the structure is great", she says. "Registration and Zoom lessons in are morning are perfect as Barnaby is ready to learn and happy to concentrate. The online YouTube videos are great to do in our own time and fit around outdoor activities - so there is not too much screen time - then the close of school zoom works well to finish the day on a high.
Mr Newton has been so supportive - I am not sure he could give any more than he has! He's available for any questions or problems and gives children as much energy and support as a person possibly can through a computer screen. A breath of fresh air too - offering parents the encouragement and enthusiasm that gives us the energy to negotiate the current situation."