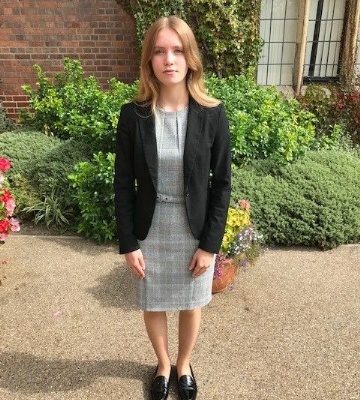 We are thrilled to introduce to you Alicia, Derry girl and one half of our new Captains of School! In her spare time, Alicia is a racing driver, being the 2019 IAME Ladies Cup Champion. This proves her to be ambitious and the perfect fit for this exciting new role. Ahead of her year of Captaincy, we thought it only right to welcome Alicia into the role with a quick interview.
Why did you want to run to be Captain of School?
I wanted to run for Captain of school this year as I have always looked up to the previous captains from over the years and would like to have a positive impact on other students, just as they had on me. It's a great chance to give back to the Worksop Community after everything they have done and continue to do.
What is one thing you would like to put into place during your time as Captain?
I would love to put together a group of students from across all year groups that would be interested in voicing their own opinions on what they would like to see at the school. This would allow us to incorporate everyone's ideas and make sure everyone at the school has a chance to feel heard.
Are you happy with this year's team of prefects?
There is an amazing group of prefects this year who have helped support both myself and the school by being there for other students and helping keep the community the best it can possibly be.
What is your favourite thing about being Captain of School?
My favourite thing about being Captain of school is that I am able to work closely with both Uros and Dr Price and put forward my own ideas for the school, which is a really great opportunity especially as it's my last year here.
Finally, why do you think Worksop College is so special?
I think Worksop is special due to its unique community as all the teachers and students make you feel welcome and make sure you get the best out of this experience. There are many opportunities available which help push individuals not only in their academics but their own personal interests too which is really important.
Fantastic job, Alicia - we can't wait to see what great things you'll do for Worksop College this year.