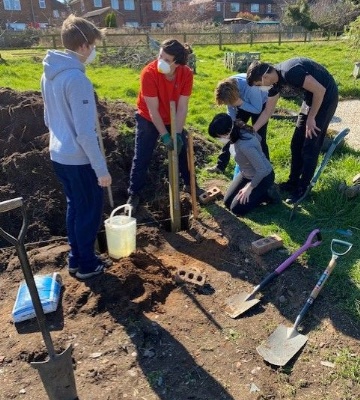 As part of the co-curricular programme at Worksop College, a group of dedicated students have been heading down to Manton Garden, with the aim of creating a beautiful community garden.
As we know, our school is an active member of a community and engages in charitable letting of the school facilities, regular fundraising for charities, and encourages students to engage in voluntary projects.
With your help, we would like to complete one of our latest projects, The Manton Garden Project. This project aims to build a sensory garden for the local community to use. It is being specifically designed to serve elderly patients with dementia.
Since November, a group of pupils, under the supervision of Mr. Cawley, Mrs. Cristodoulou, and Father Askey, have been working on building a garden to help the local Manton Community. As we are aware, Covid has changed the lives of many, especially the elderly and those that are at high risk of developing health issues after the infection. As a result, it has become impossible to offer counselling services indoors for some individuals because of the increased risk. Today, Manton has no space to provide these services outdoors. Therefore, our aim is to give people in need an opportunity to receive the necessary therapy, using Manton Garden as their safe space.
The garden is also designed to be rich in sensory experiences. We aim to use fragrant plants such as rosemary and lavender, as well as textures, wind chimes and more. Sensory stimulation, especially smells, have been shown to activate memory cells in people with dementia, as their brain associates the smells with past experiences, and it promotes their wellbeing too.
Up until this point, Manton also has no space for the local nursery children to play outdoors amongst nature. Children will also play and enjoy themselves in the garden surrounded by beautiful flowers and plants.
"It has always been important to me to make a positive difference in the world. So when I first heard about this project, I immediately signed up," says Ana, Year 12. "As a psychology student, I was aware of how vital sensory experiences are for dementia patients. The thought of making someone's life better with my help brought me happiness and motivation to finish this project. At the same time, it is giving me gardening skills and volunteering experience, which will benefit my future."
Today, the project is almost finished with the physical work. The group have moved several tonnes of soil to have a perfect ground level for patients with access needs. However, to complete the project and give the local community the garden they deserve, help is needed.
The following materials are still required in order for the project to be completed:
Railway sleepers x 20
Bags of quick-set cement x8
Bags of general cement x 10
Pea gravel x 1 tonne
Timber Railway Sleeper Screws - 6.7 x 250mm x 30
Fragrant perennials and outdoor herbs x many
Roll of polyethene sheeting 4m x 25m
If you wish to support this project in any capacity, please email a.cawley@wsnl.co.uk.
Thank you in advance for your time and donations on behalf of the Manton Project volunteering team and all the students at Worksop College. Let us show our community spirit.