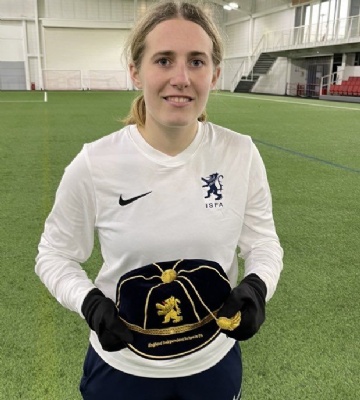 Worksop College sees WCGFA signing play for England - the first international football player in the school's history. Izzy, Year 12, was signed to the Worksop College Girls' Football Academy in September 2022, with a vision to progress her footballing ability alongside studying in the Sixth Form. This has opened a whole host of opportunities for her, including admission into the England Independent School's camp.
Hosted in St George's Park, the English Football Association's national football centre, the camp put Izzy's skills to the test, with the first day consisting of a training session and friendly fixture.
All the hard work was in preparation for the final day, where the ISFA team would play a fixture vs England Colleges.
"We secured a 2-1 win, creating history as the first ever ISFA team to beat the England Colleges," Izzy told us. "After the game I was presented with my international cap to round off a very special day."
Mr Parkin, Assistant Head and founder of the WCGFA, said "this is great stuff from Izzy, and what a brilliant result against England Colleges!"
If you would like to find out more about the Worksop College Girls' Football Academy, which is in partnership with England Lioness Jill Scott MBE, and Directed by Paul Wilkinson, ex English former professional footballer, please see HERE.