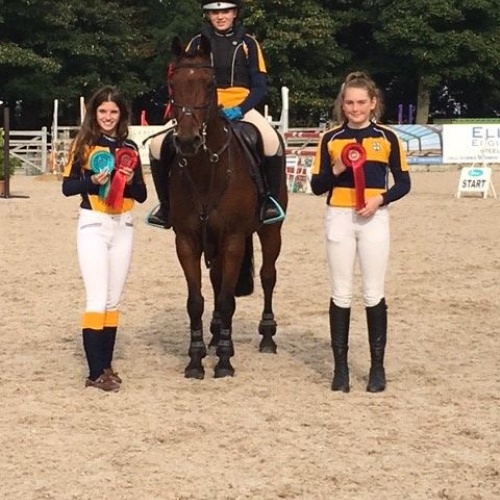 This weekend, Worksop's Equestrian team spent it competing in a regional qualifier for the National Schools Equestrian Championships and NSEA Challenge Plate.
On Saturday, the team, which included Yr 11 student, Lucy Hallam and brothers' Ed and George Howard, secured 3rd place and qualification for the 90cm Show Jumping Class for the NSEA Challenge Plate to be held in December. Portland House student, Ed also achieved 6th from 52 starters in the same class.
Derry House pupil, Lucy Hallam also went on to win both the 1 metre and 1.10 metre show jumping classes to qualify for the National Schools Championships at Addington in October.
Success continued on the Sunday, with a team win and Nationals qualification for Yr 8 pupil, Emma Wright and siblings, Lucy and Ellie Hallam in the 90cm Jumping with Style Class. This win was of significant importance as this event is judged on riding style and technical ability. The victory was even more impressive as other competing teams had four riders, and Worksop won with three!
Debbie Hallam, parent to Lucy and Ellie said:
"We've high hopes for the rest of the year as well. We plan to continue our campaign this academic year by attending qualifiers for Royal Windsor, Hickstead and the County Challenge Championships."

Well done to the Worksop Equestrian Team – a fantastic effort!