Find your Future: Guest Speakers
Get to know some of our fantastic Guest Speakers and decide which talks you'd like to attend...
Ross Jackson | The Housing Crisis: Meeting the needs of future generations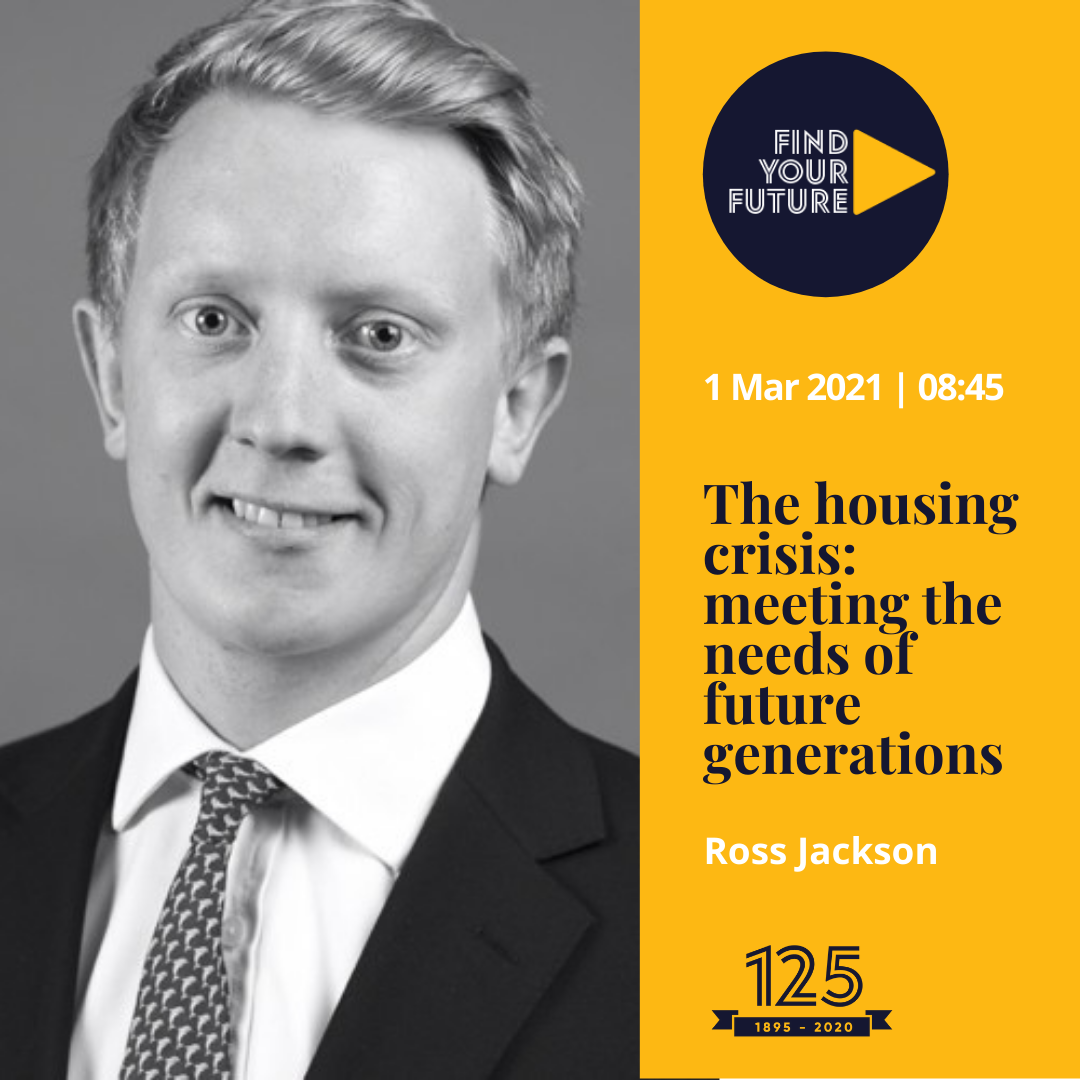 This session will give an overview of the strategic land and development industry, with a focus on housing. It is widely reported that we have a housing shortage in the UK and the Government have a targeted delivery of 300,000 homes per year in order to reduce this shortage and provide sufficient supply to meet the demands of current and future generations. The session will provide an opportunity for interactive land identification.
Kirsten Donaghy | From Microbes to Milk - My career in the food & drink industry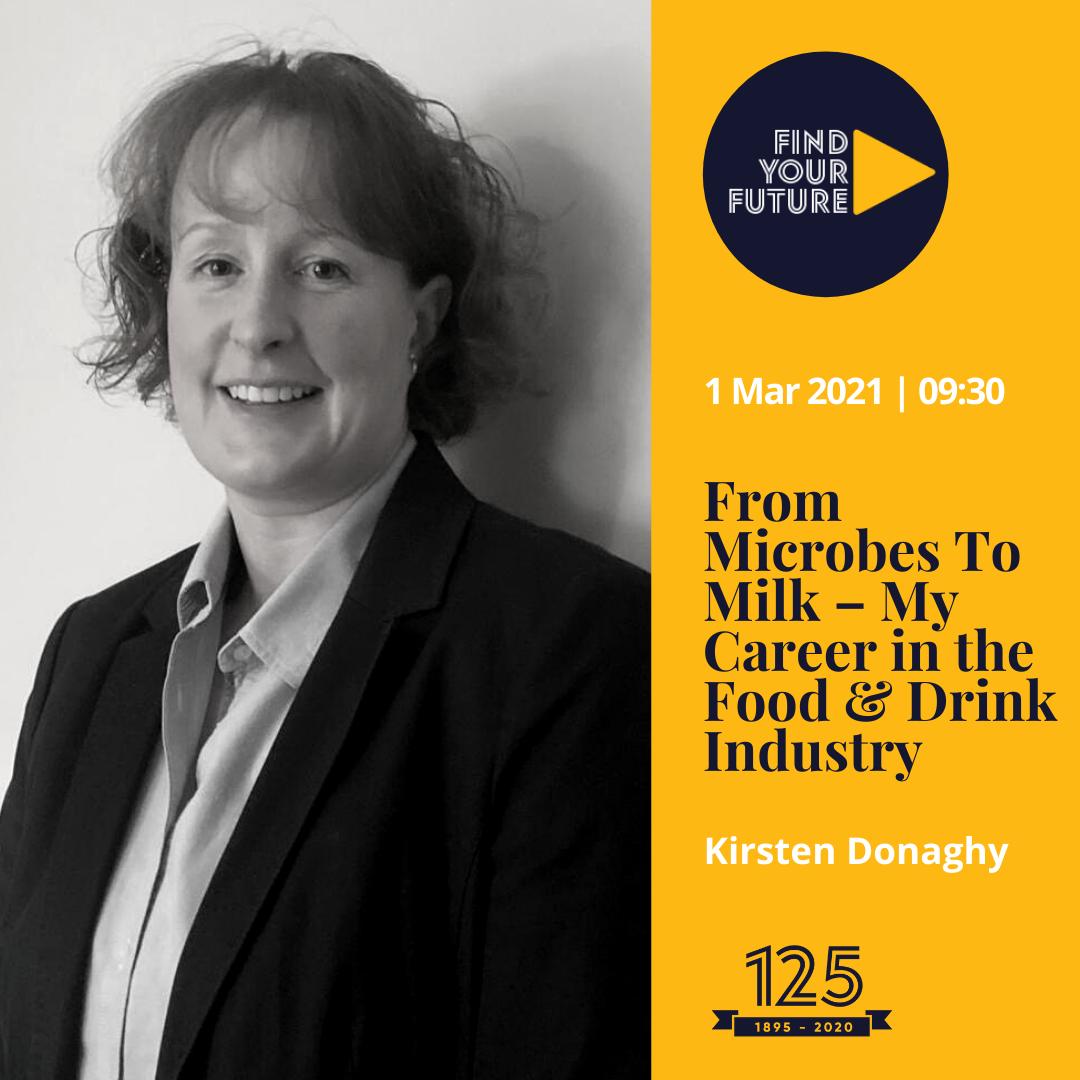 Following graduation from The University of Liverpool with a degree in Microbiology, Kirsten has enjoyed a successful career within the Food & Drink Industry in both the UK and Europe, working for well-known consumer brands such as Cadbury's, Coca-Cola and Arla. Kirsten's session will focus on her career and how she has progressed through the industry from working in a food testing laboratory through to her current global role at Arla. Kirsten will share the twists and turns, the good and bad experiences and the learnings she has had along the way, in the hope that she can provide some great career tips as your begin your own future path.

This session will be of particular relevance to those that have an interest in STEM subjects but may not specifically want a career in engineering or medical related professions. The food industry has a wealth of high calibre and much sought-after graduate and apprenticeship schemes available, which will provide a diverse and dynamic insight into the many aspects of this critical industry.
James Dobbin | Renewable Energy - What's the future?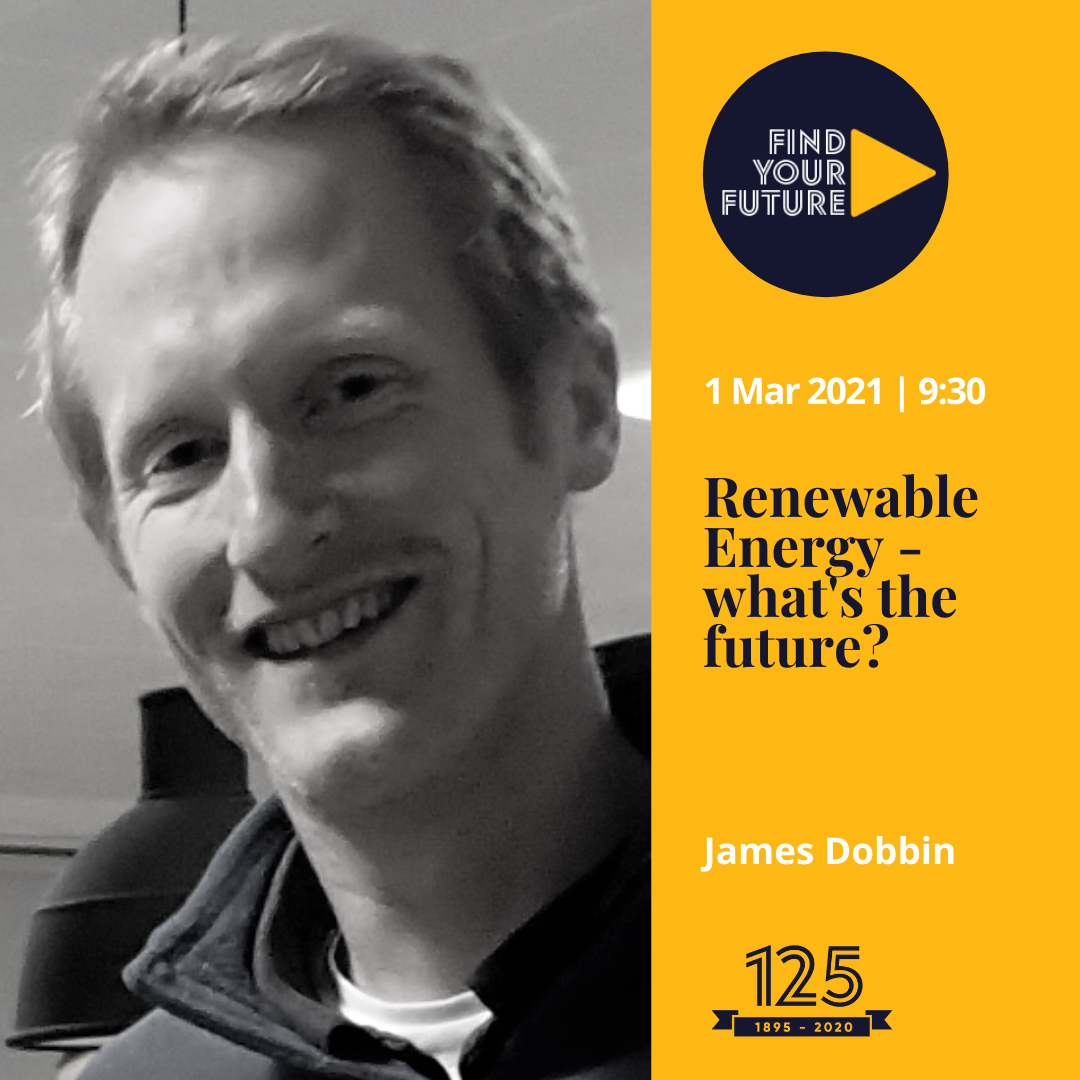 James attended Worksop College between 1992 and 1997 in Talbot house. He undertook A-Levels in Maths, Physics and Design Technology, and proceeded to study Mechanical Engineering at the University of Bath between 1997 and 2002 - which included a placement year at BP in Aberdeen. After University, James had a year out in France riding for a cycling team in 2003, and in 2004 returned to the UK, spending time doing various temporary work until securing a graduate engineering job at a company now owned by Babcock. This work related to nuclear decommissioning projects in the UK including the Dounreay nuclear test facility near Thurso.
In 2007 James started work for a renewable energy consultancy in Bristol that is now part of DNV GL. His work relates to all aspects of wind turbine design and he has gained experience with mechanical systems design and specification, within wind turbine inspection work and acting as lenders technical advisor for a number of wind farm construction projects in northern England and Scotland. He has been involved with a range of wind turbine design projects mainly for clients in China - managing two of these projects. James is a Chartered Engineer and member of IMechE, and this presentation will be about his work in wind energy from 2007 to 2020 - giving an insight into what is a fast-growing industry.
James Wright | What's it like to be an Accountant?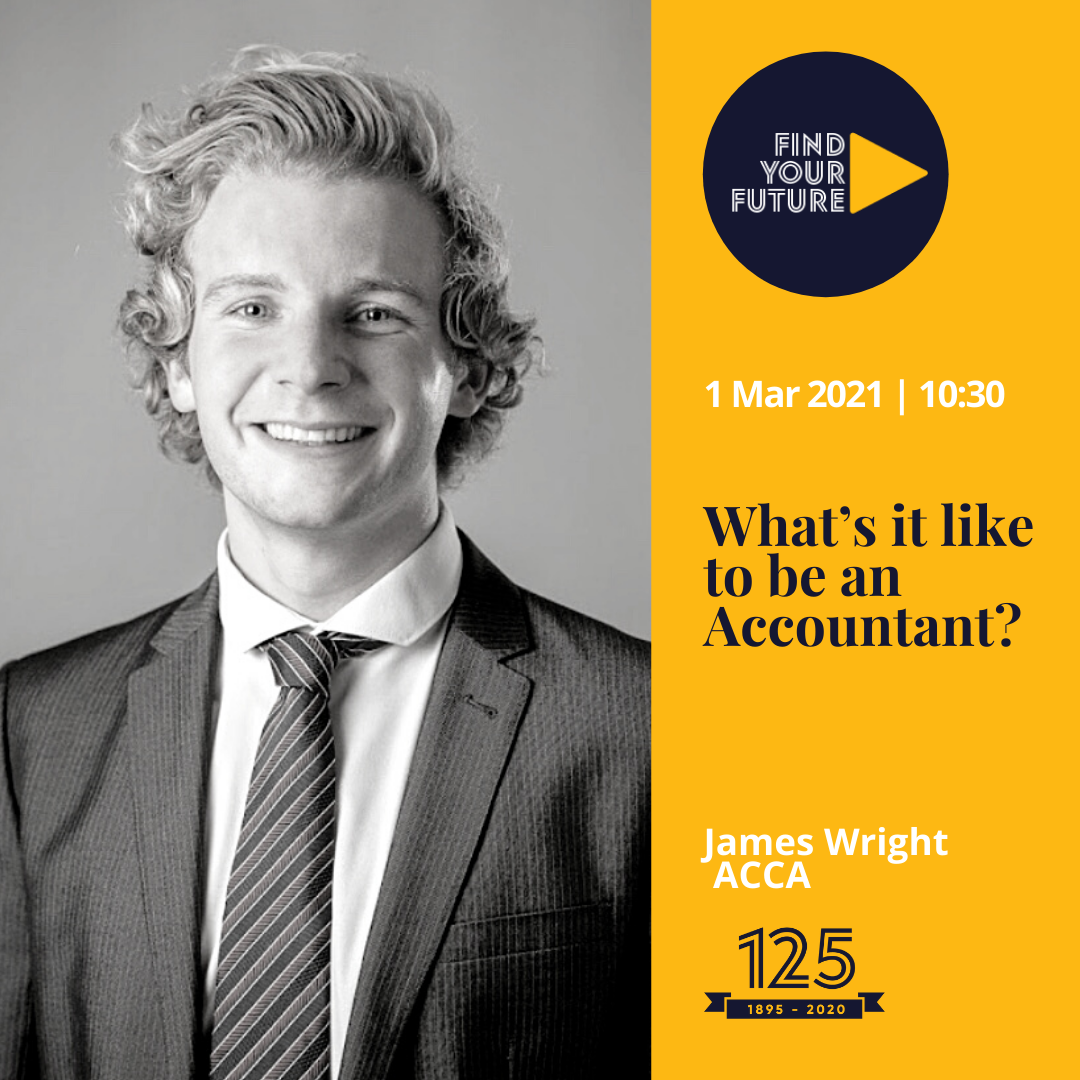 Join our talk to hear from Certified and Chartered Accountant James Wright about his experiences graduating from university, working in America, completing his professional accountancy qualification ACCA, and now working as a senior lecturer at the University of Lincoln. James has experience working for an accountancy practice, taxation and helping people set up their own businesses.
Feel free to connect with James on Instagram before the session where he mentors accountancy and finance students around the world: James Wright ACCA.
Clare Gilfillan | What can a Psychology degree lead to?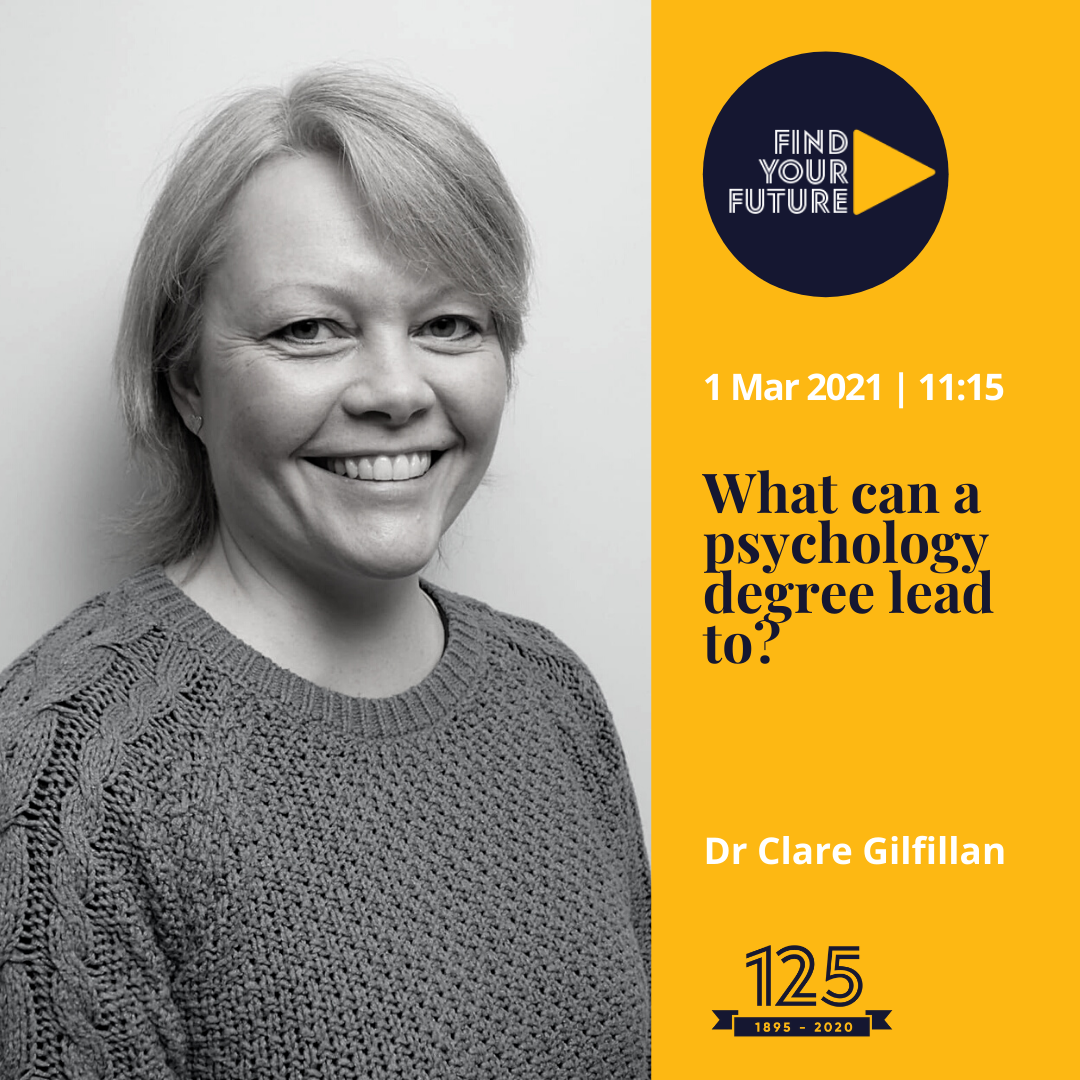 After leaving Worksop College in 1993 Clare completed a BSc in Psychology, leading to an MSc and a PhD. Clare then decided to pursue a career in research, and worked on a European Union funded research project. Clare loved the travel involved, but most of her time was spent alone with a laptop in a dingy office! Before she went to university, Clare had wondered about becoming an Educational Psychologist, but in England you have to teach first to follow this career. Clare settled in Scotland where the job of an EP was slightly different, meaning she was more than qualified with her research experience to enter the profession through an MSc in Educational Psychology. Clare has now been doing this job since 2006.
Matthew Stephenson | Keeping industries turning: the power of automation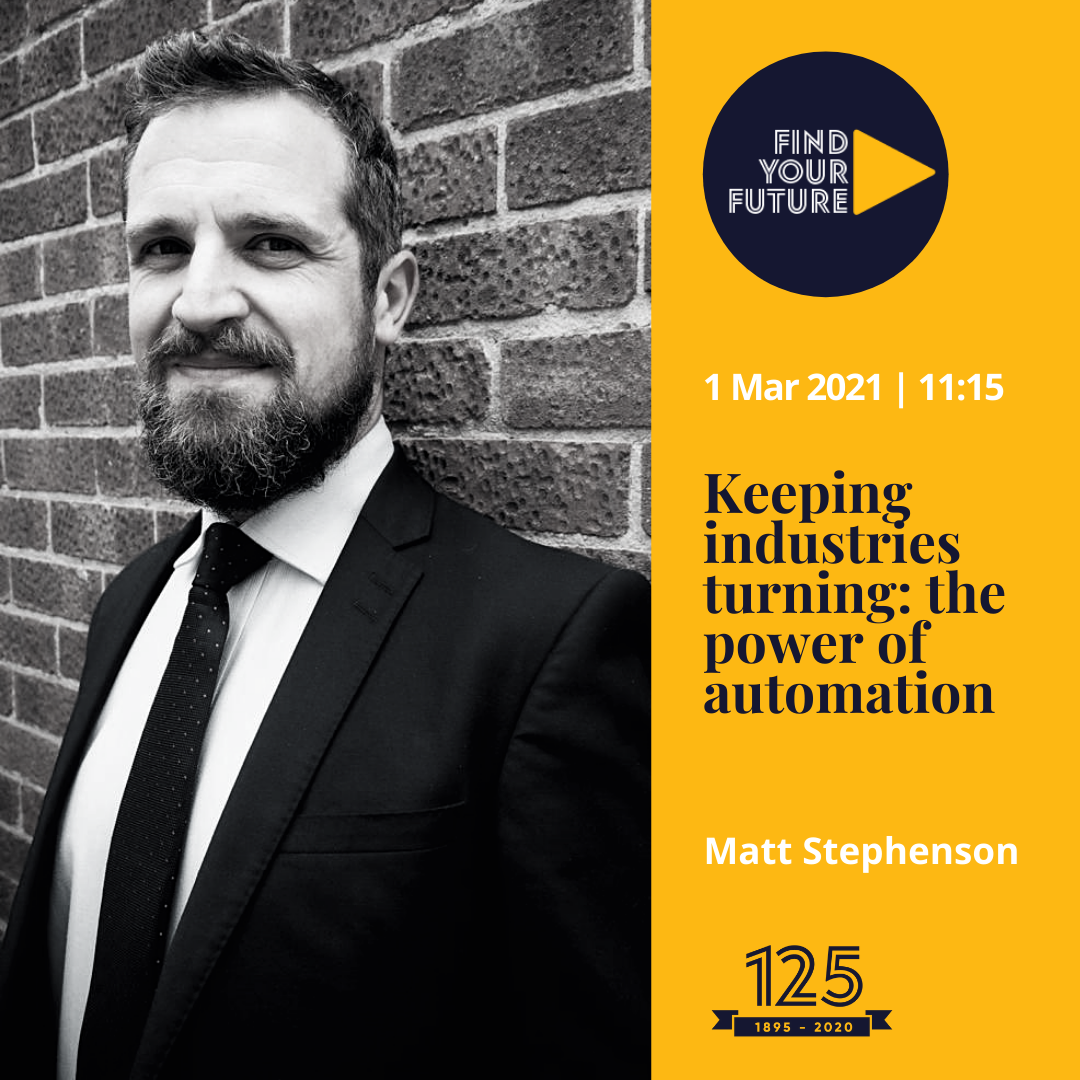 Matthew attended Worksop College before leaving to study at both the University of Lincoln and Nottingham Trent University. He is an experienced project manager and is currently Head of Projects at the automation and materials handling company, L B Foster in Nottingham, where he manages the operational performance of the automation division. Outside of work, Matthew enjoys carpentry, middle distance running, restoring old engines and reading.
Karen Kwan | Upskill your Career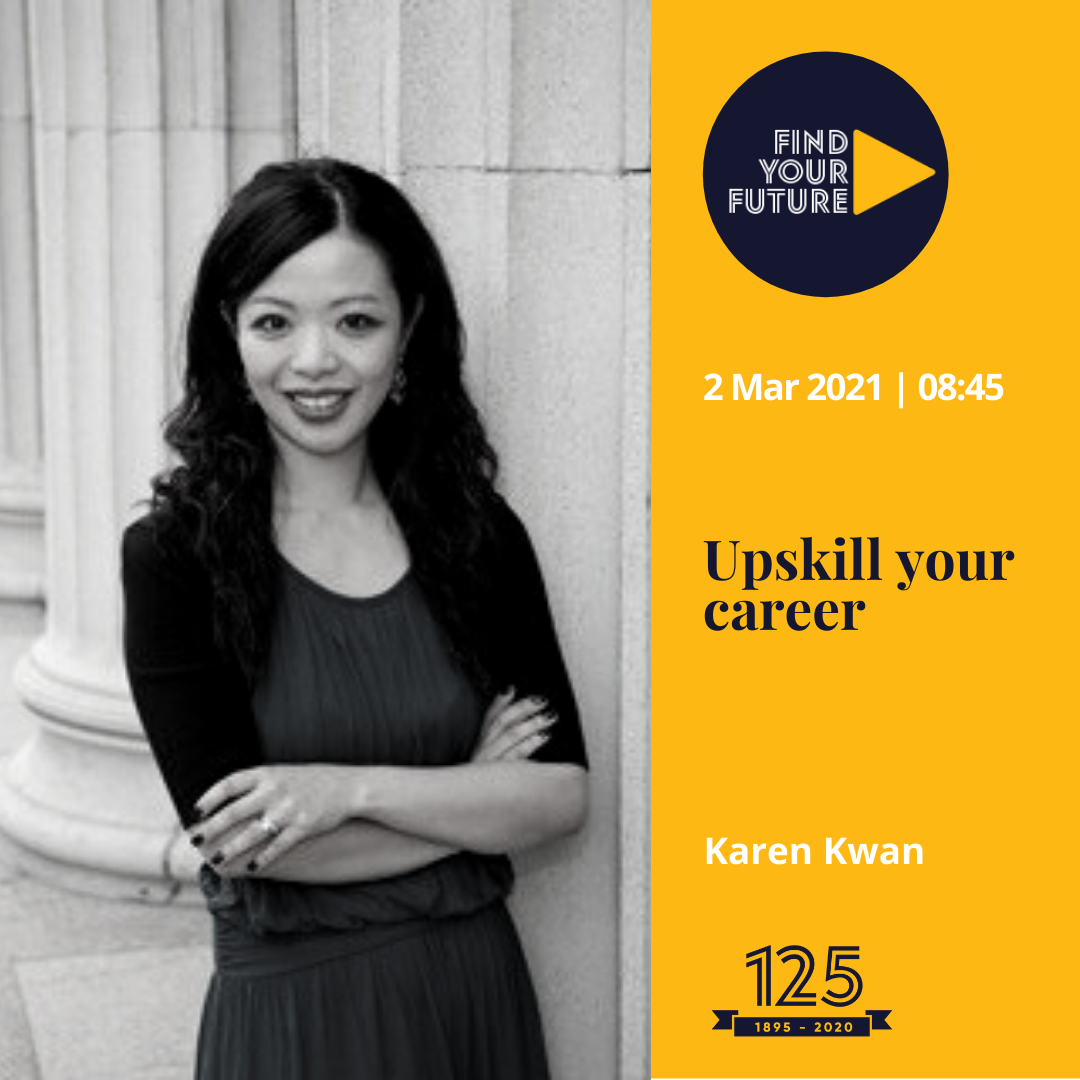 Based in the San Francisco Bay Area in California, US, Karen is a Silicon Valley Business Journal 2014 Women of Influence Honoree; the Association of Fundraising Professional Silicon Valley Chapter 2013 Chapter Service Award Recipient; and genARTS Silicon Valley 2013 Movers & Shakers Award Recipient in recognition of her contribution to the next generation of emerging arts leaders in Silicon Valley. A Certified Fund Raising Executive (CFRE) since 2011, Karen specialises in major gifts cultivation, donor relations, institutional giving and events management.
Karen has raised over US$18million since 2003 for small to mid-sized non-profit arts and social services organisations in Silicon Valley. Karen has been an active member and volunteer of the Association of Fundraising Professionals since 2006, having served in numerous elected board roles for the Silicon Valley Chapter. A dedicated arts advocate, Karen has also lent her expertise to various steering committees and advisory boards for nonprofit arts organisations, and served on grant review panels for regional and state-funded granting agencies since 2002.
Lucy Shutt-Vine | Workshop: Discover your skillset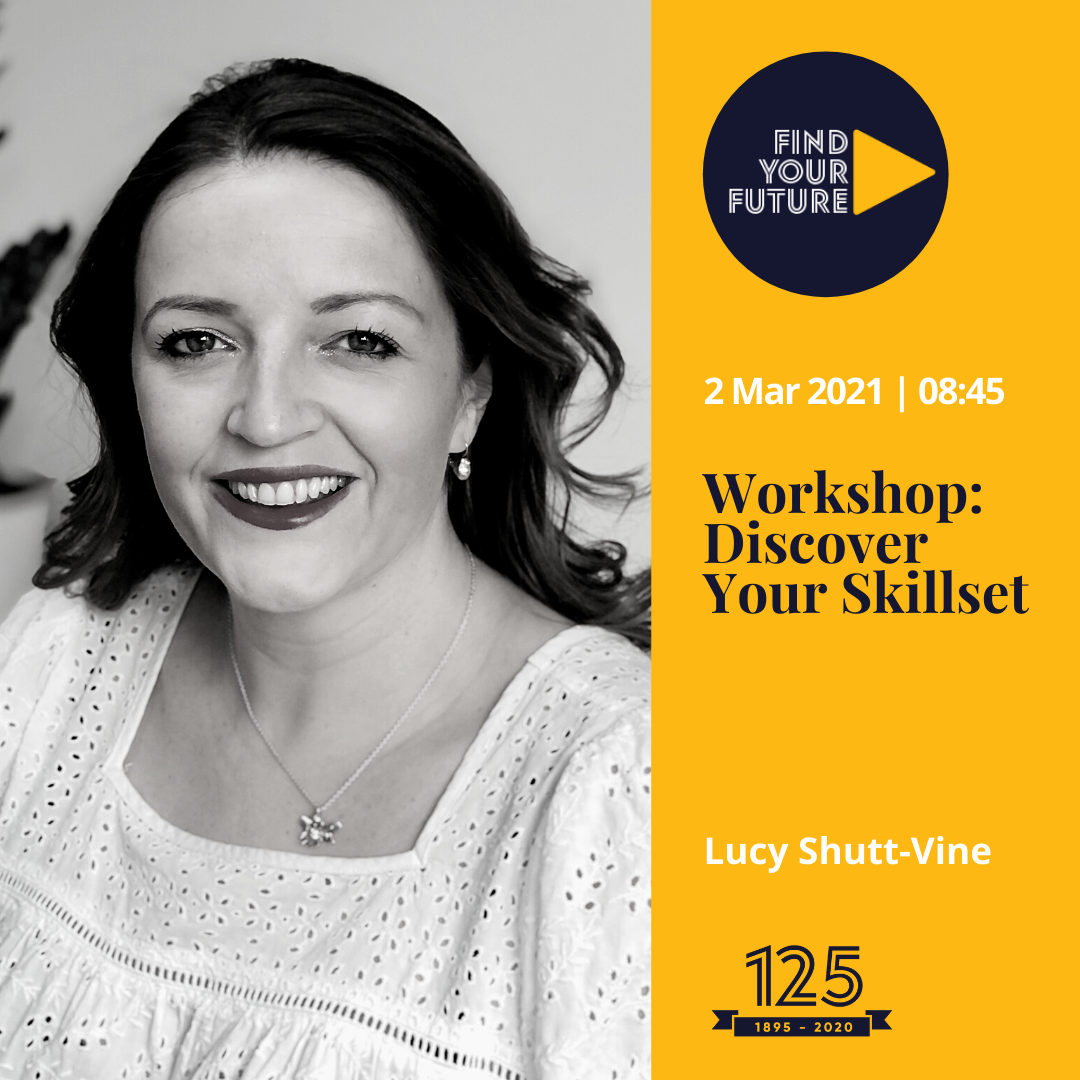 Lucy Shutt-Vine (nee. Rhodes) attended Worksop College from 2004 to 2006, in Derry House and has spent 10 years in the Adtech industry - first in media sales before pivoting her career into learning and development. Lucy is a careers confidence coach, and spends her days helping individuals and teams gain more clarity about their career direction and become more strategic and creative in their thinking. Lucy will be hosting an exploratory workshop to reveal your top interests, skills and strengths based on your favourite subjects at school. This interactive session will give you examples of various job roles which exist, and teach you how you can apply your skills in many directions. Each of you will also take away your own personalised job description to help guide you in your future career.
Mayowa Olonilua | How are video games shaping the defence industry?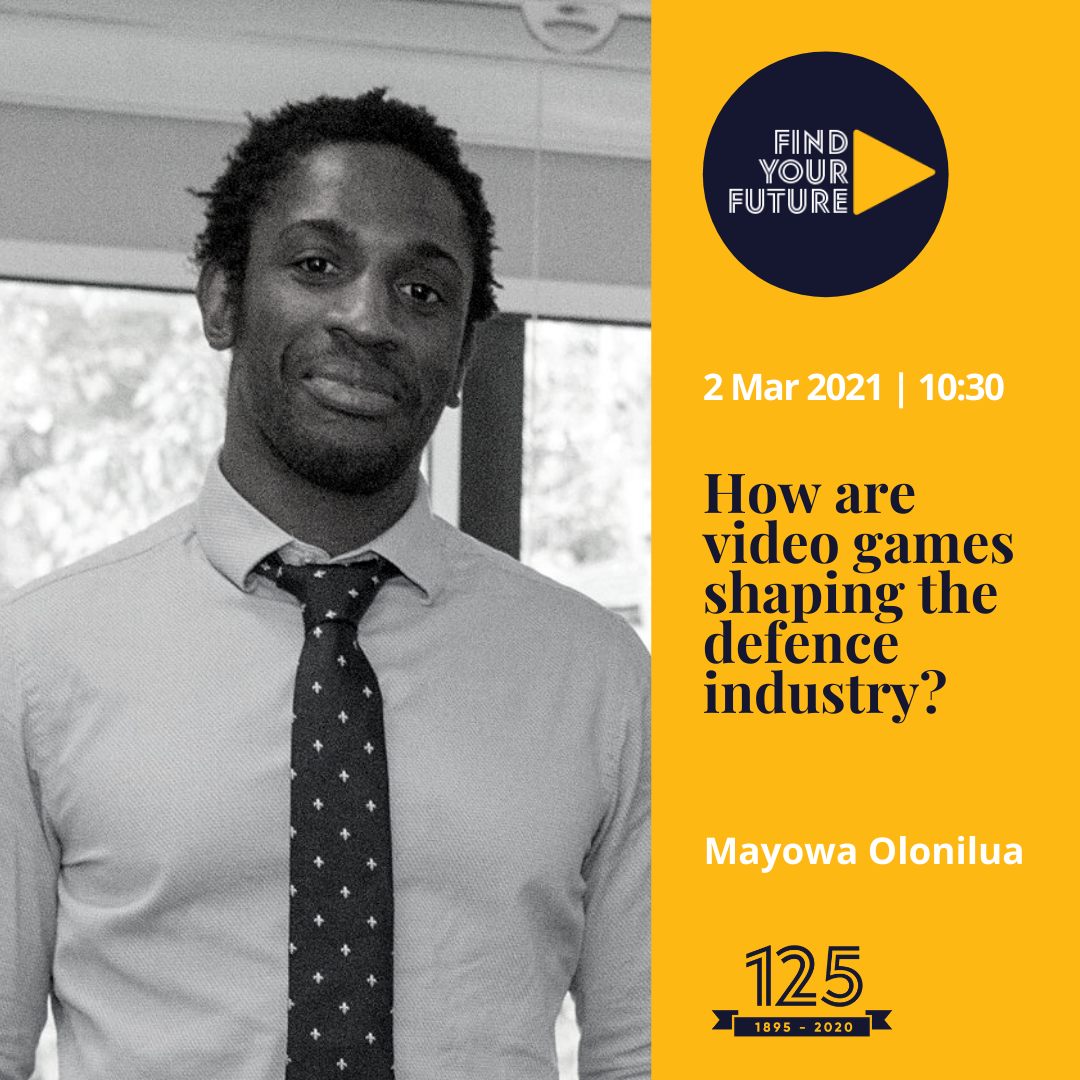 Mayowa is a Senior Research Psychologist at the Defence Science and Laboratory (Dstl), and has a broad interest in assessing and improving human performance using technology. Mayowa is currently leading a project that aims to understand how immersive technology can be used to enhance training and education. The focus of Mayowa's session will be on how 'video games' are used within defence and give an insight into careers in serious games.
Mike Walton | How can you benefit from failure?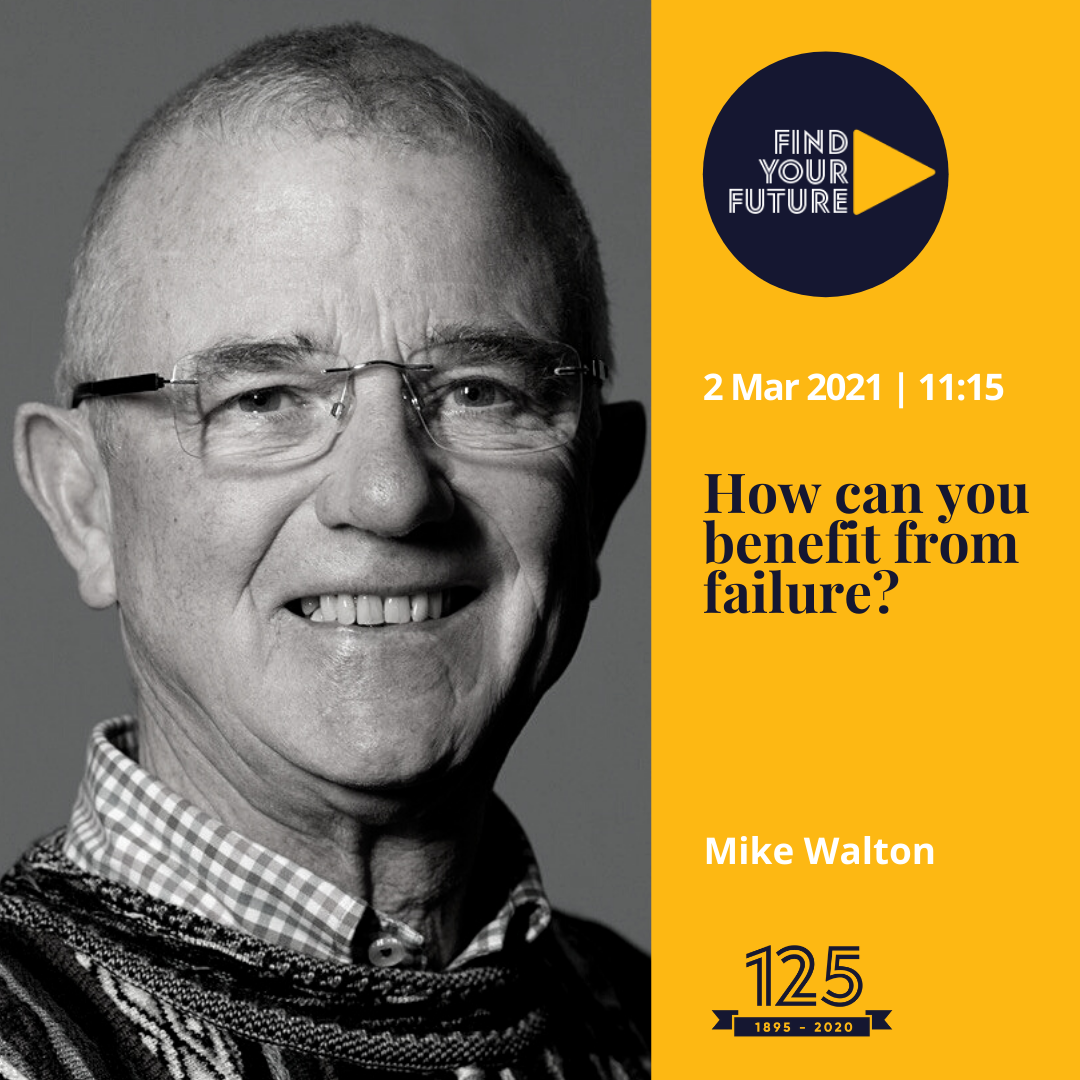 Mike attended Worksop College between 1959 and 1964, in School House. During his session, Mike will be talking about his life after Worksop College from a professional perspective. He will discuss some of his own experiences as well as where life has taken him - through good times and perhaps not such good times – and how each experience has been an important learning point. Mike will discuss what he has learned about remaining positive and always focusing on what you want, as well as sharing a little of what he does now, and how understanding yourself will help you to work with and understand others.
Mike Pastor | The Challenge of Fundraising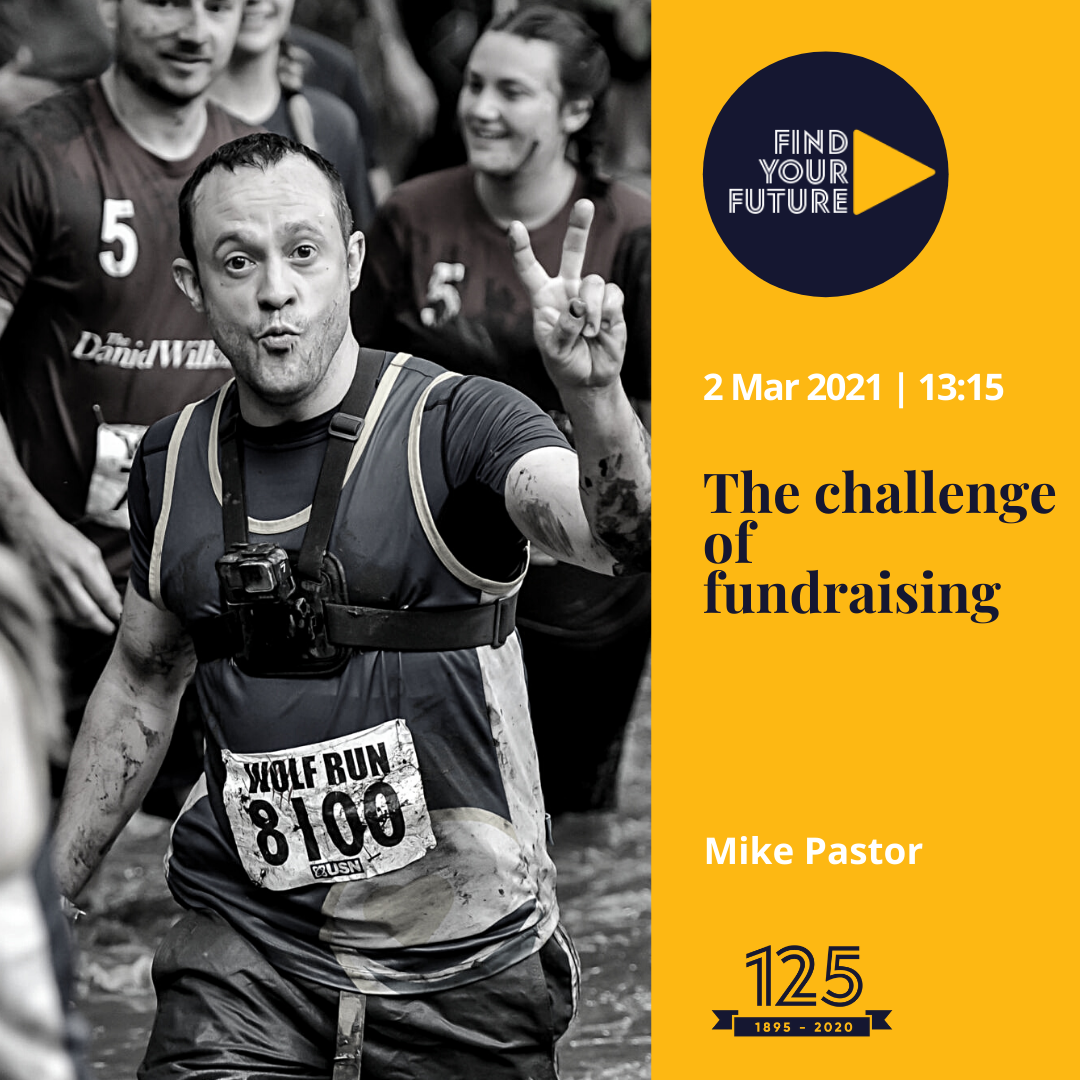 Over the years, Mike has worked in a number of different areas - from exam boards, to sales and marketing, to teaching, to fundraising. Mike travelled around the world and, as a result, has seen many things that have a made a difference to the way he both thinks and acts. Mike has lived in different areas of the UK, and now I lives in a small village in Lincolnshire, with his wife, two daughters, a dog, a cat and four horses. Mike has always enjoyed running, climbing and hiking and now uses those skills to raise money to help people.
Paddy Jackman | Preparing for University: Debunking the myths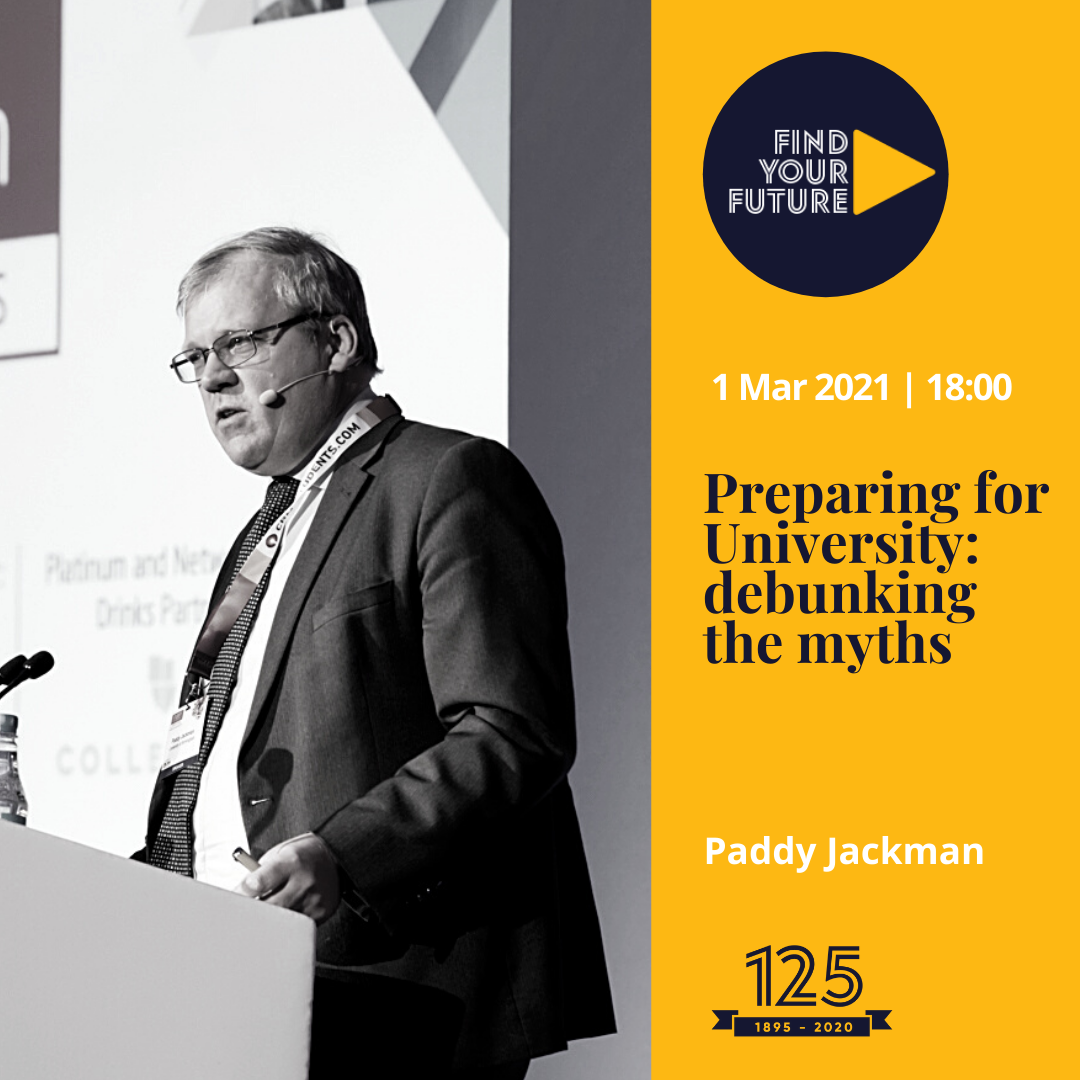 Over the last twenty-two years, Paddy Jackman has been involved in the Higher Education sector, specifically in the provision of services for students. He has held senior management positions at The University of the Arts, London, Imperial College London, and most recently at the University of Birmingham where he was responsible for a team of 1,200 delivering a varied number of services including halls of residence, catering outlets, a hotel and a sports operation that will host squash and hockey in the 2022 Commonwealth games.
Paddy is recognised nationally as a leading authority of student accommodation and from 2012 to 2020 was Chair of the Audit Committee of the ANUK Code of Standards for Halls of Residence - which oversees the standards for over 330,000 bedspaces nationwide. For the last 12 years he has Chaired the annual Property Week Conference on Student Accommodation - interviewing leading politicians, University Vice Chancellors, and other leading figures in the sector.

Paddy currently balances his time between his role as Director of University Partnerships for Campus Living Villages - a global provider of student accommodation - and his own consultancy business, which includes being a Non-Executive Director for University of Essex Campus Services Limited.
Hollie Powell | What is talent management? Building a powerful workforce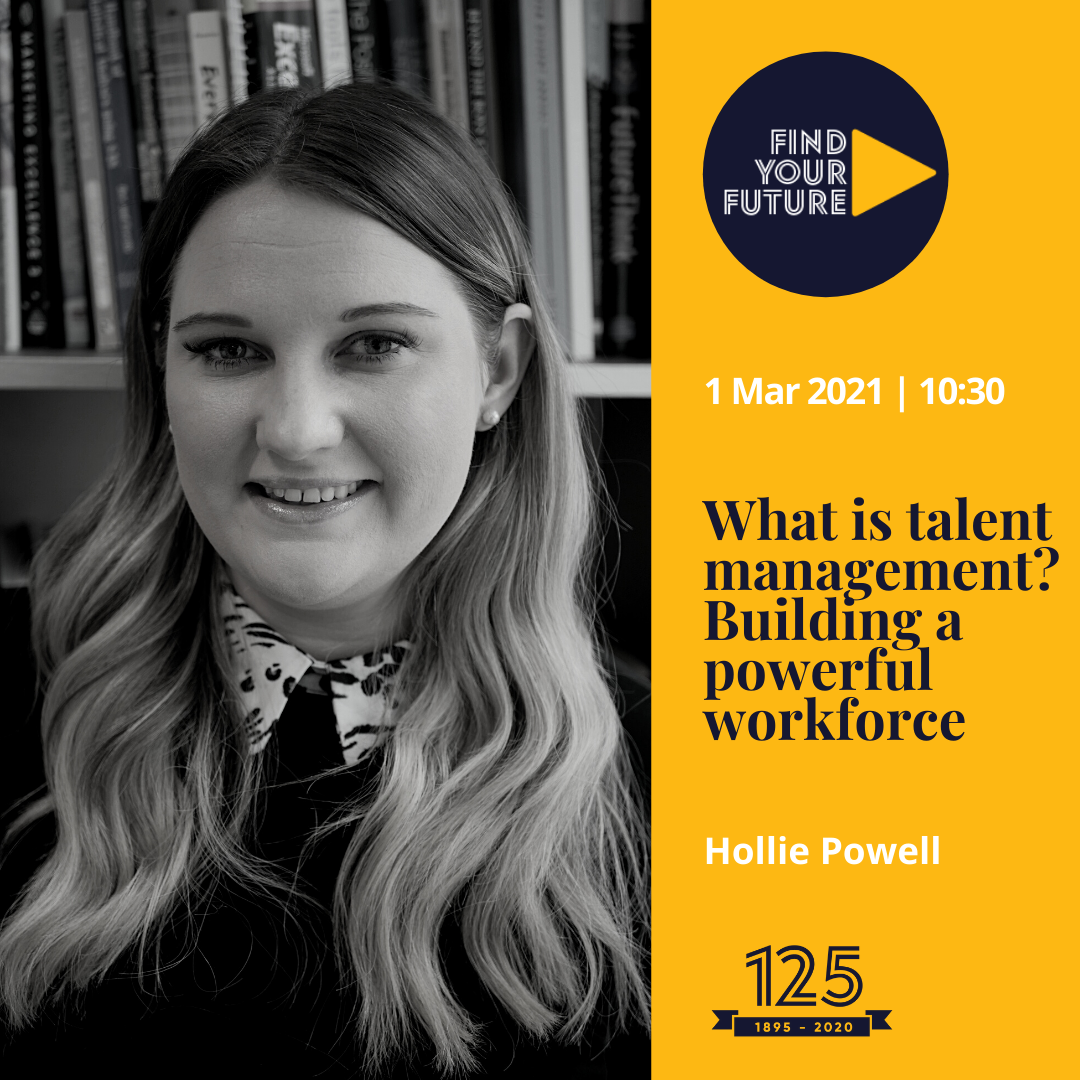 Hollie attended Worksop College from 2008-2011, leaving to study Criminology at University - which she loved. Following University, Hollie went on to a Graduate Scheme at a Global Car Rental company and then ended up in Recruitment. She has worked in multiple disciplines including Marketing, Pharmaceuticals and Aviation, and now works in HR as a Recruitment Business Partner at a global utilities business. Hollie's day-to-day job involves lots of planning - including planning for hires into the business, the recruitment of senior hires and project-based work. During her session, Hollie will be discussing alternative career options, her journey and career development within her role.
Ben Johnson & Zoe Menday | Delivery Success: Programme & Project Management
​​​​​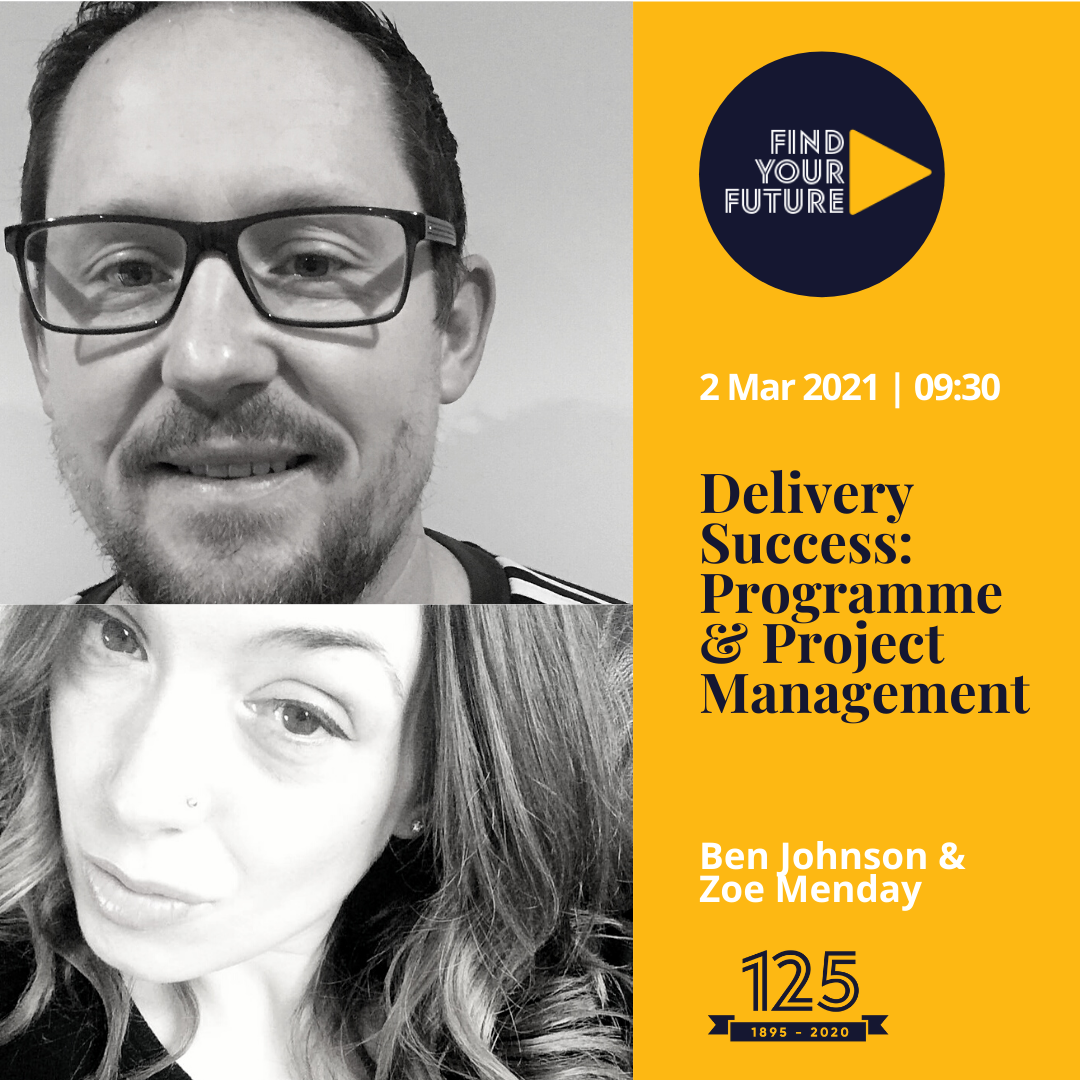 Ben Johnson
For over 20 years Ben has been delivering change within the discipline of project, programme and portfolio management within the UK and across Europe. During this time Ben's career has enabled him to work with a variety of people across wide ranging organisations including Central Government, Financial Services, Telecoms, Banking, Fraud and Higher Education. Ben is passionate about working with people from different backgrounds and experiences who are all aiming to achieve a common goal - delivering success whilst having fun! Ben currently lives in Huddersfield with his wife Jodie and three daughters – Alysia, Sienna and Brooke. He likes to play and watch all sports and is currently training for his third marathon where he will be supporting Diabetes UK.
Zoe Menday
Zoe has over 20 years experience in Change Management and a proven ability in strategic and transformational change across Agile software delivery, project and Programme management. She has worked in many sectors including Financial Services, E-commerce and IT in large organisations and well known brands. During her career Zoe has worked in many roles across these organisations, including Finance, Procurement and IT, which enables her to bring a broad perspective when managing change and understanding different stakeholders interests.
Zoe is passionate about building high performing teams with high morale and opportunities to learn together, and truly values people over process! As her career has progressed Zoe has sought to become an expert in Agile methodologies and creating roles within the organisation that allow her to drive individuals and the organisation towards achieving agility…really due to this being the most fun way to work!
Andy Day & Mike Gibbs | Experian: How the pieces fit together - architecture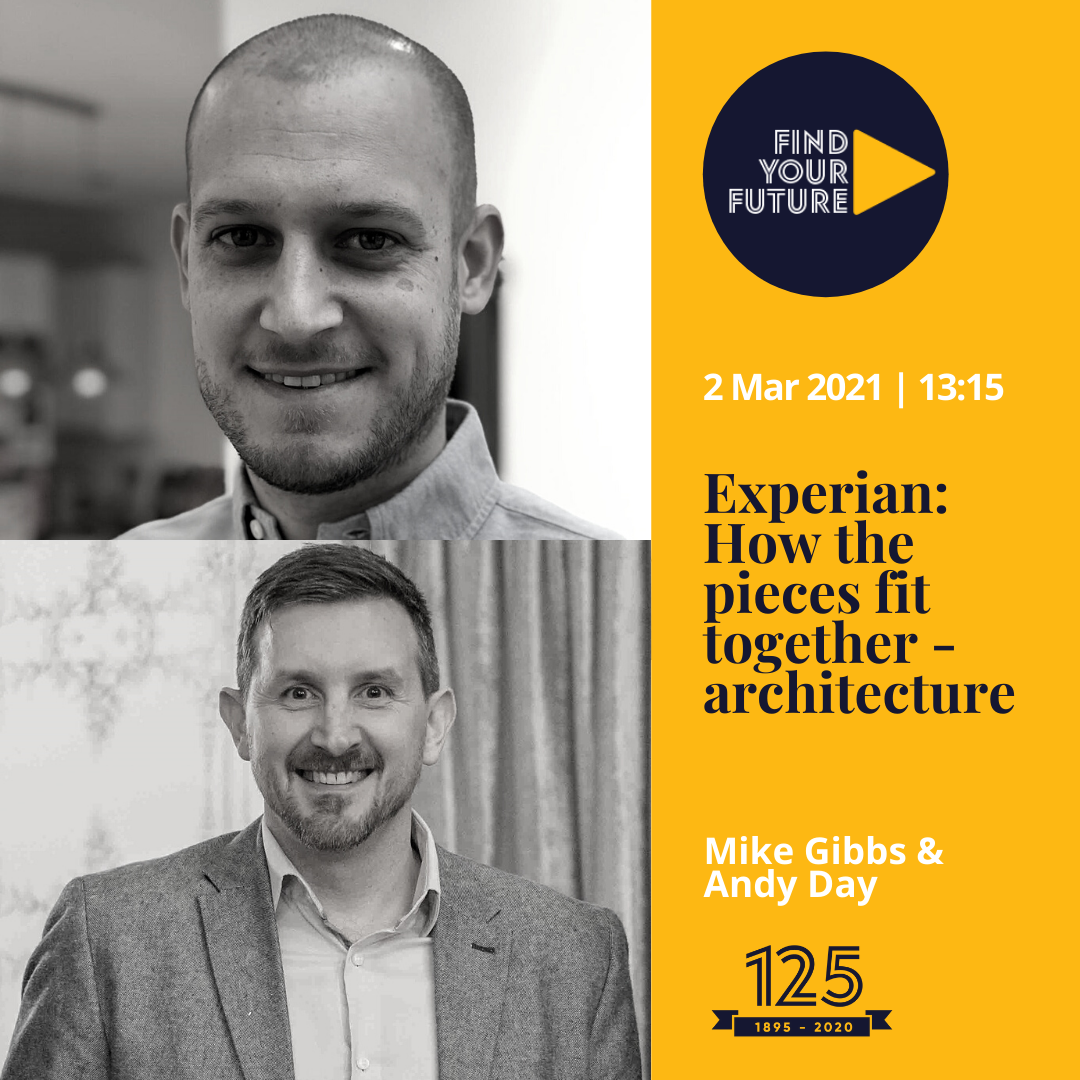 Andy Day
Andy is a Principle Solution Architect within the Deal Solution Architecture team at Experian, where he has worked for the last two years. Andy's role involves creating solutions for customers using various Experian products and services. A geek at heart, Andy's career from his days in the military, telecoms engineering, pre-sales and architecture follows a core principle of delivering technology solutions, which realise the maximum value for clients and end users.
Mike Gibbs
Mike is the Head of Deal Solution Architecture at Experian, where he has worked for the last three years, and holds a first class BSc degree in Information Systems. Mike's role involves leading a team of architects who create solutions for customers using various Experian products and services. Mike has spent his career looking at ways in which technology can help deliver positive results and outcomes for his clients and, having undertaken roles in Project Management, Technical Lead, Architecture and Pre-Sales across his career, has a good understanding of the end-to-end client lifecycle.
Zoe Menday & Emily Capewell | Experian: Transforming into a Digital Organisation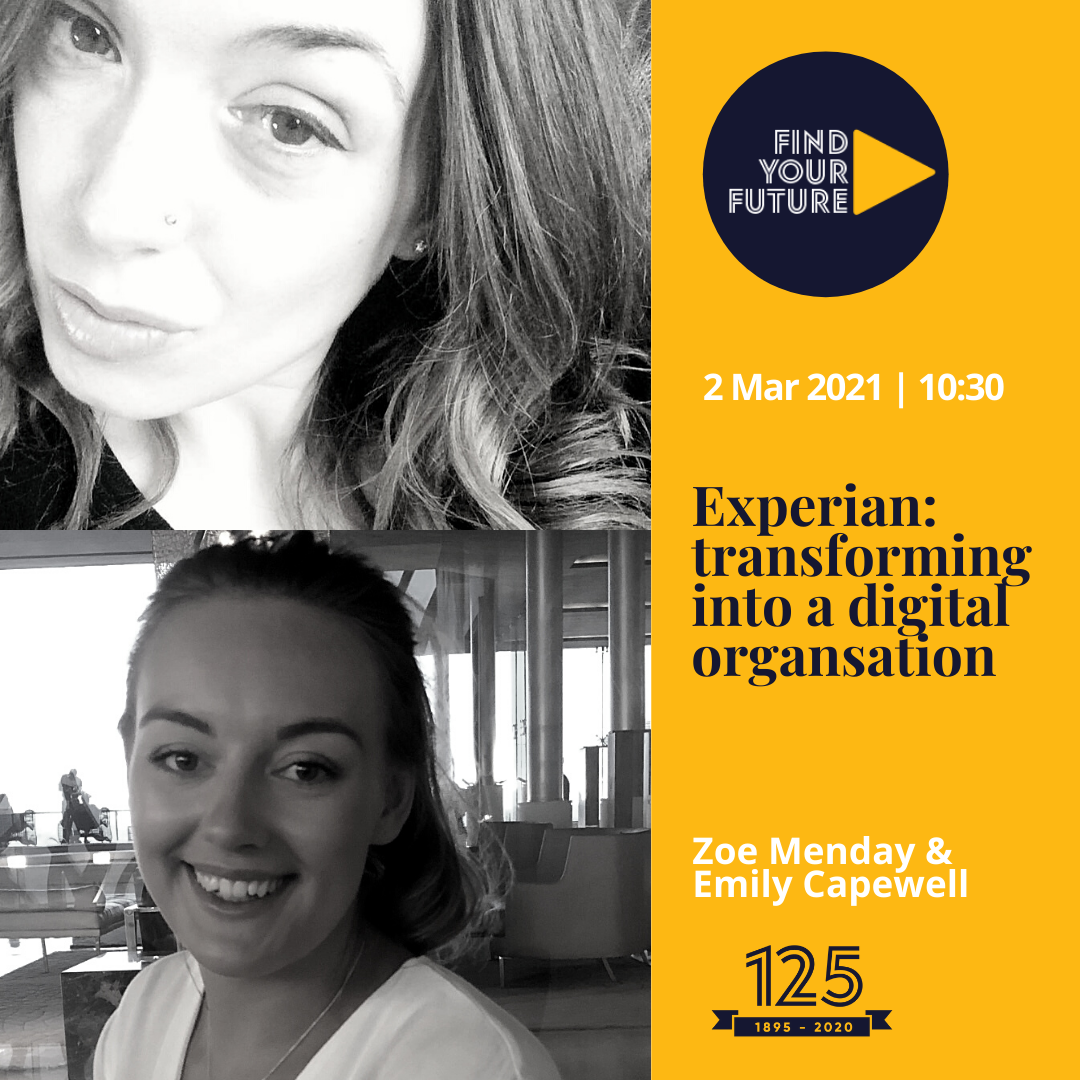 Zoe Menday
Zoe has over 20 years experience in Change Management and a proven ability in strategic and transformational change across Agile software delivery, project and Programme management. She has worked in many sectors including Financial Services, E-commerce and IT in large organisations and well known brands. During her career Zoe has worked in many roles across these organisations, including Finance, Procurement and IT, which enables her to bring a broad perspective when managing change and understanding different stakeholders interests.
Zoe is passionate about building high performing teams with high morale and opportunities to learn together, and truly values people over process! As her career has progressed Zoe has sought to become an expert in Agile methodologies and creating roles within the organisation that allow her to drive individuals and the organisation towards achieving agility…really due to this being the most fun way to work!

Emily Capewell
"Digital" is the new normal. We have all seen the way the world has adapted through modern technology; from screening who is at your door by your ring doorbell linked to your phone; to being able to order, pretty much, any restaurant food and have it delivered to your sofa - tracking your delivery driver all the way! These innovations come from people thinking bigger around how things can be done differently and more efficiently using technology - and that is what excites Emily.
Emily's entire working career has focused on the technology industry, starting out as a Graduate Test Analyst making sure that software met the requirements of our customers and did as it was supposed to. It was here that Emily's passion for thinking bigger and more transformational began. "We were manually clicking through systems and logging that they worked. If someone has just written a really clever programme, why can't we run it and test it with another clever programme?" These questions have defined Emily's career up to now, and today her role as Innovation Lead is to challenge the status quo, from the way we work to the technology we use.
Emily completed her Actuarial Sciences and Financial Mathematics degree in 2016 and began work for DXC on their graduate programme. On completing this programme, she was running the UK wide applications transformation programme focusing on automation, data analytics and lean methodologies. Emily moved to Experian in April of 2018 and has continued in a similar role, ensuring they are sharing best practice and working in the best way possible.
Julian Ashby | Art Direction: From Avengers Assemble to Guardians of
the Galaxy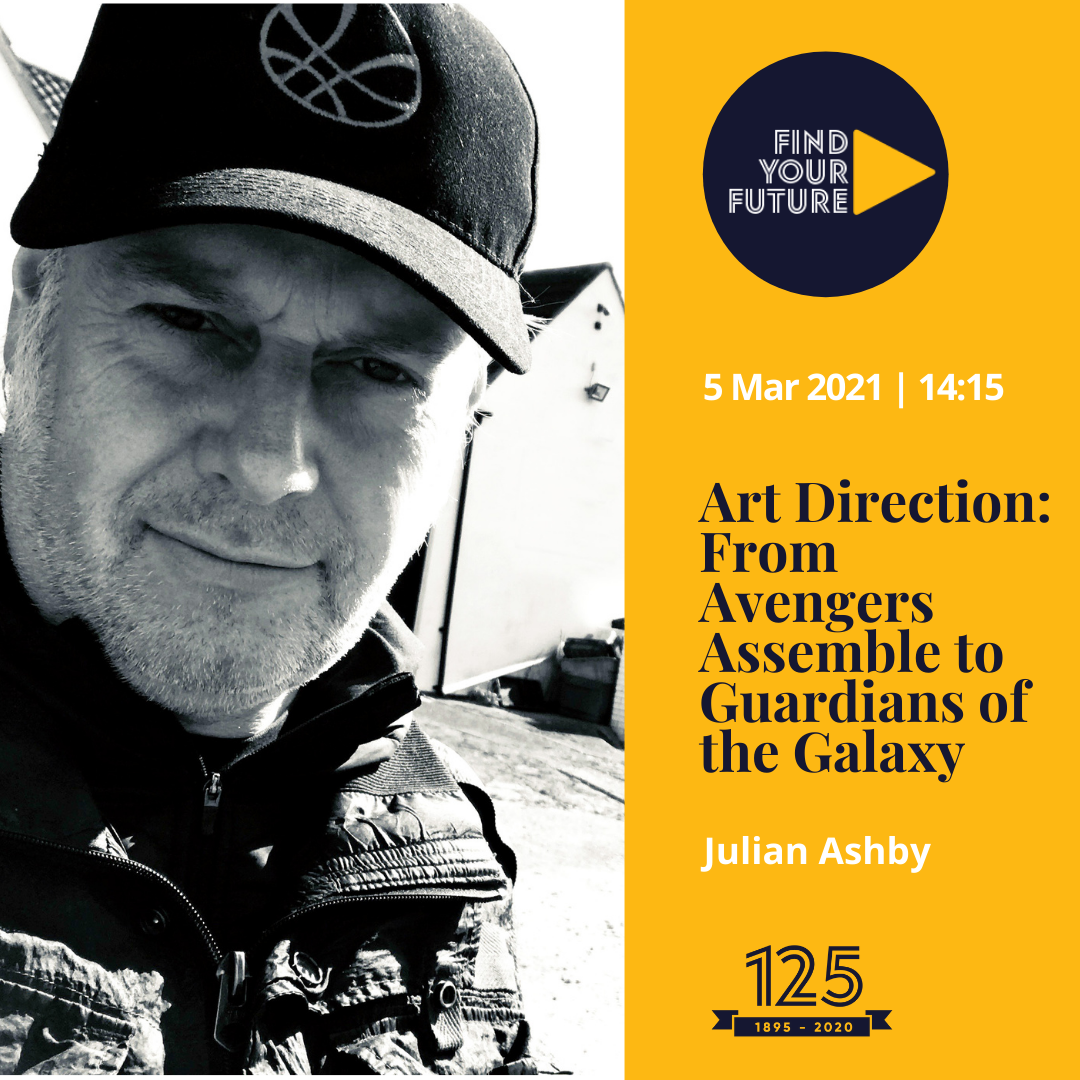 Julian studied 3D Design at the Berkshire College of Art & Design in Maidenhead from 1984-1988. After graduation he worked as an interior designer for three years, before returning to full time education to study Design for Film & Television at Kingston University.

Julian's entry into the film industry was in 1993 as an Art Department Assistant at Shepperton Studios. Since then Julian has worked on 30 feature films, spread over 14 countries and four continents. He has worked extensively in North America, and resided in Los Angeles from 2003-2011.

Notable films include: Tim Burton's Oscar winning 'Sleepy Hollow', the historic epic 'Troy', Tony Scott's 'Unstoppable', and for Marvel Studios 'Thor: The Dark World', 'Guardians of the Galaxy', 'Avengers Assemble', 'Avengers: Age of Ultron', 'Doctor Strange', 'Avengers: Infinity War', 'Avengers: End Game' and currently in production 'Doctor Strange: Into the Multiverse of Madness'.

Julian currently lives in Nottinghamshire with his wife Rebekah, daughters Lylah and Alexah, and two dogs.
Liz Birdsall | The Hidden Benefits of Volunteering in the Sports Sector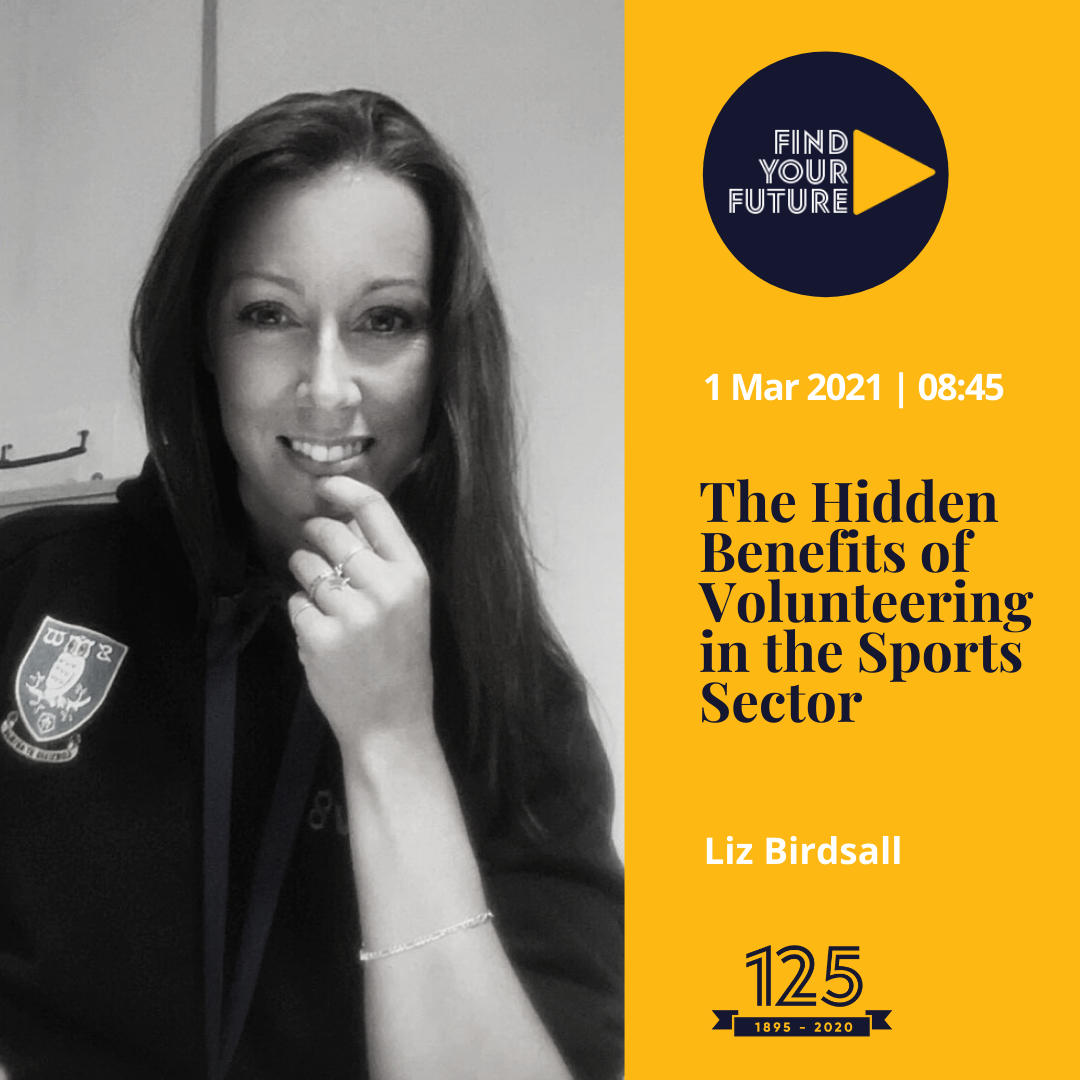 Elizabeth has always had a true affinity & passion for anything sport. Her career has taken her through a diverse & worldwide journey, working & volunteering in swimming, skiing & athletics. She is now working at the Sheffield Wednesday Football Club Community Programme as a Tutor in Sports Coaching after going back to University as an adult learner in order to lecture in Further & Higher Education. She is also looking forward to officiating in her first World Series in Para Swimming; Easter 2021.
Neil Worsencroft & Andrew Wright | Experian: IT Operations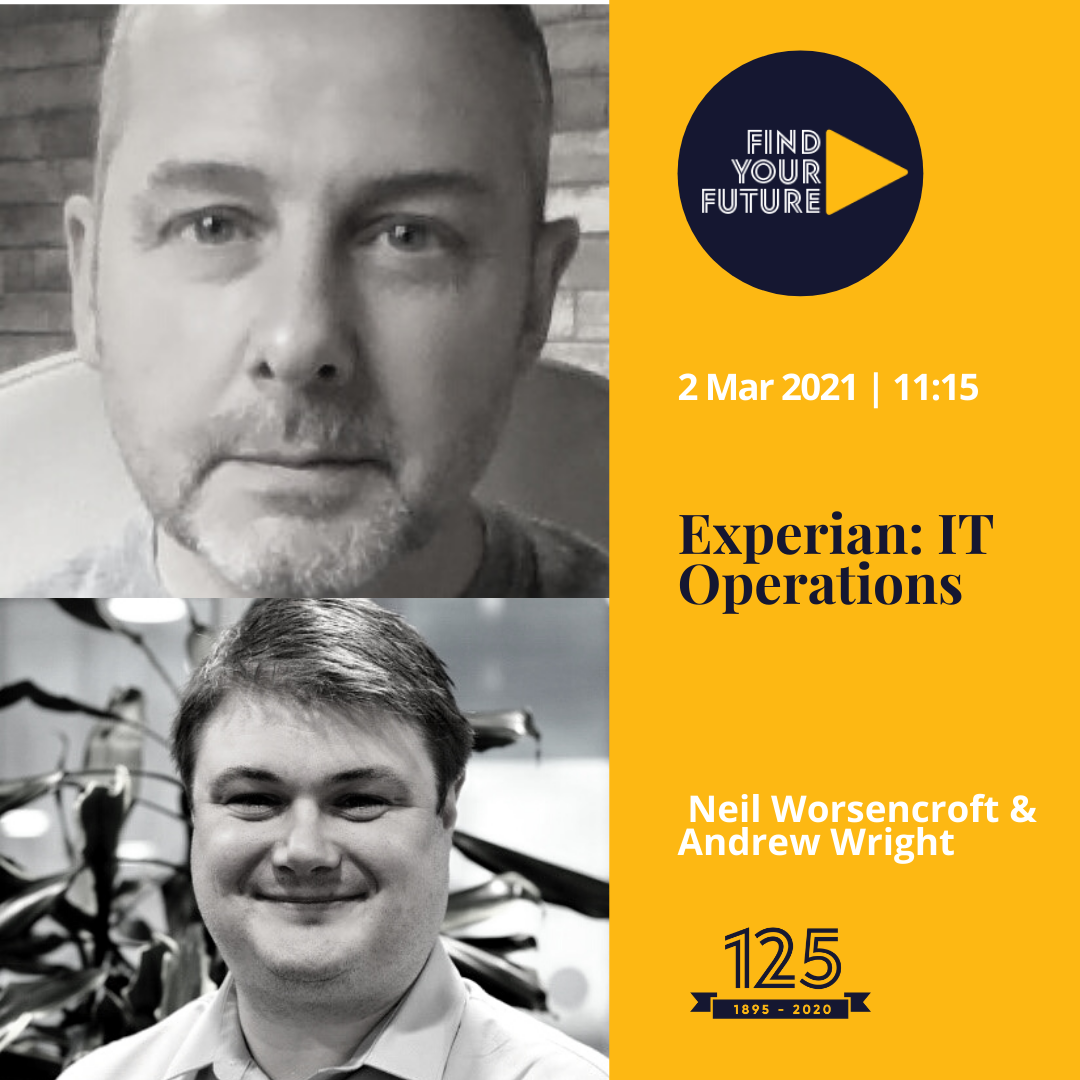 Neil Worsencroft
Neil has over 30 years' experience in the IT Technology Industry, starting out as a trainee programmer, then spending several years travelling the UK, Europe and Asia implementing and supporting both hardware and software solutions. Over the last 10 years he has been helping and leading organisations to "Digitally Transform" how they provide IT service and support to their customers.

Neil is passionate about how companies can ensure that IT systems stay available for customers to use, but he is also hugely passionate about how they can also support customers when their IT systems do not work in the way they should, or when they have questions about those systems. Neil says he is obsessed about how Experian can make this the best experience possible for their customers, and how technology is used to do this. There is so much exciting technology and thinking out there, and after all, we all have come to expect that technology gives us a great experience in our personal lives.

Outside of work, Neil lives on the outskirts of Chesterfield and when not in lockdown can often be found living in a horse lorry. He is married with two grown up children, two dogs, three horses and a few chickens! Neil is a Sheffield United fan and season ticket holder, loves music and has previously played competitively at a high standard in Brass Bands.

Andrew Wright
Andy has 10 years in the IT industry. He started in tech support for a small solicitors in Liverpool before moving to Experian as a junior technical analyst, working with Fraud & Identity products. Andy now heads the Fraud & Identity Operations team under Neil Worsencroft, providing operational and technical support across the UK & Ireland, Europe, Middle East, and Africa.

Andy is driven by a love of technology, and strives to provide excellent service and embrace new tools and technologies to make life easier for colleagues and clients.
When not working in his attic, Andy is kept busy by his two young children. Any spare time is spent on his home automation or playing table tennis.
Fred Copestake | Business: How your personality can seal the deal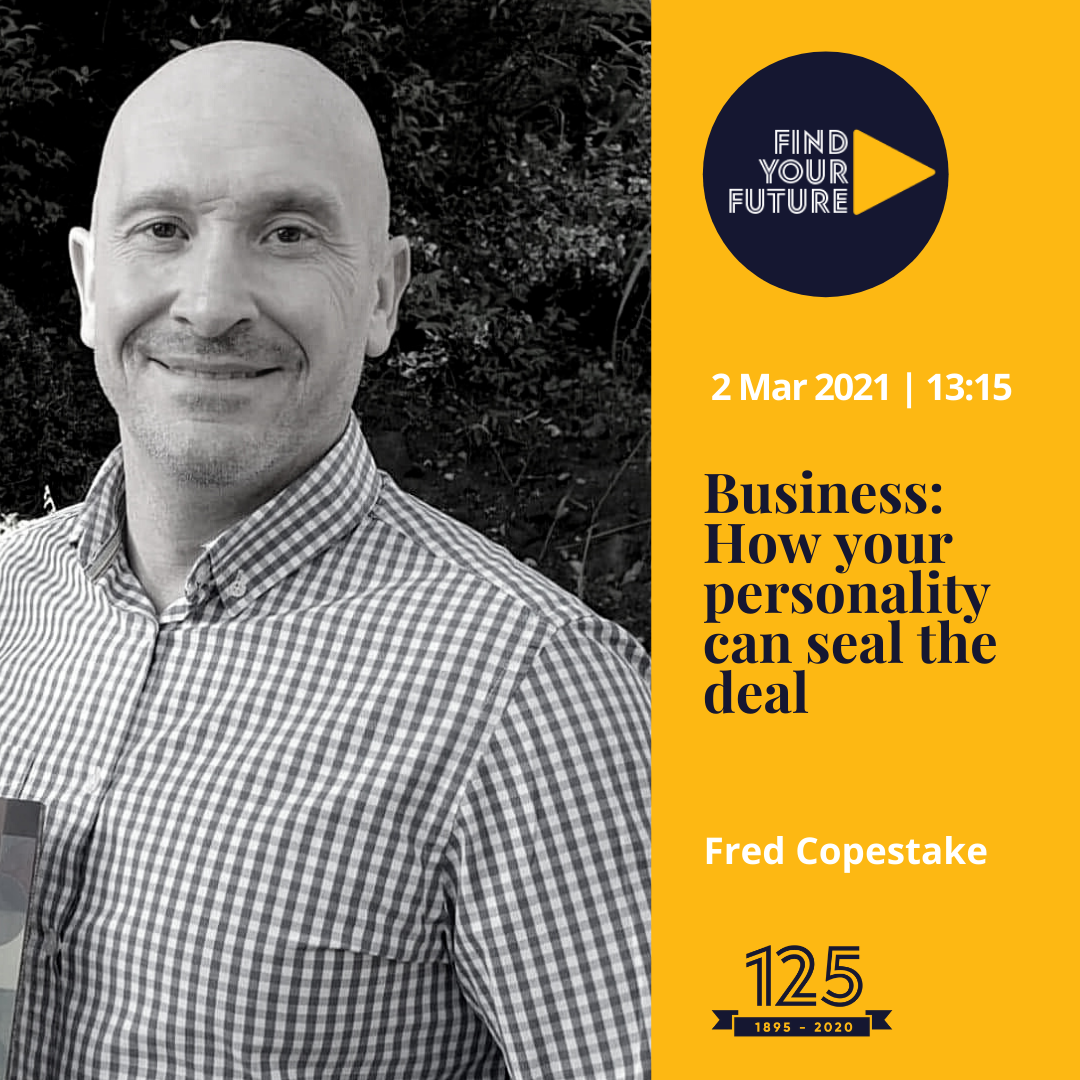 Over the last 22 years, Brindis Founder, Fred Copestake has traveled around the world 14 times visiting 36 countries and working with over 10,000 salespeople. He has taken some of the things that really make a difference in modern selling and placed these in his book 'Selling Through Partnering Skills'. These ideas form the basis of work with sales professionals involved in complex B2B sales to develop their approach and ensure it is up to date and has maximum impact. Fred believes that people can better themselves through learning and sharing, and that with better collaboration we can really make a difference. 'Selling Through Partnering Skills' looks at the evolving world of sales and sets out what people need to do to refine their approach.
Fred's session will look at how we can recognise different personality styles based on an individual's thinking preferences and, by understanding these and adapting our own approach, we can become better communicators. Are you expressive, amiable, analytical or driver? At the end of this interactive session, you will know and be able to change what you say and do to make people you are communicating with understand you better.
Sarah Maskell | Navigating your own career path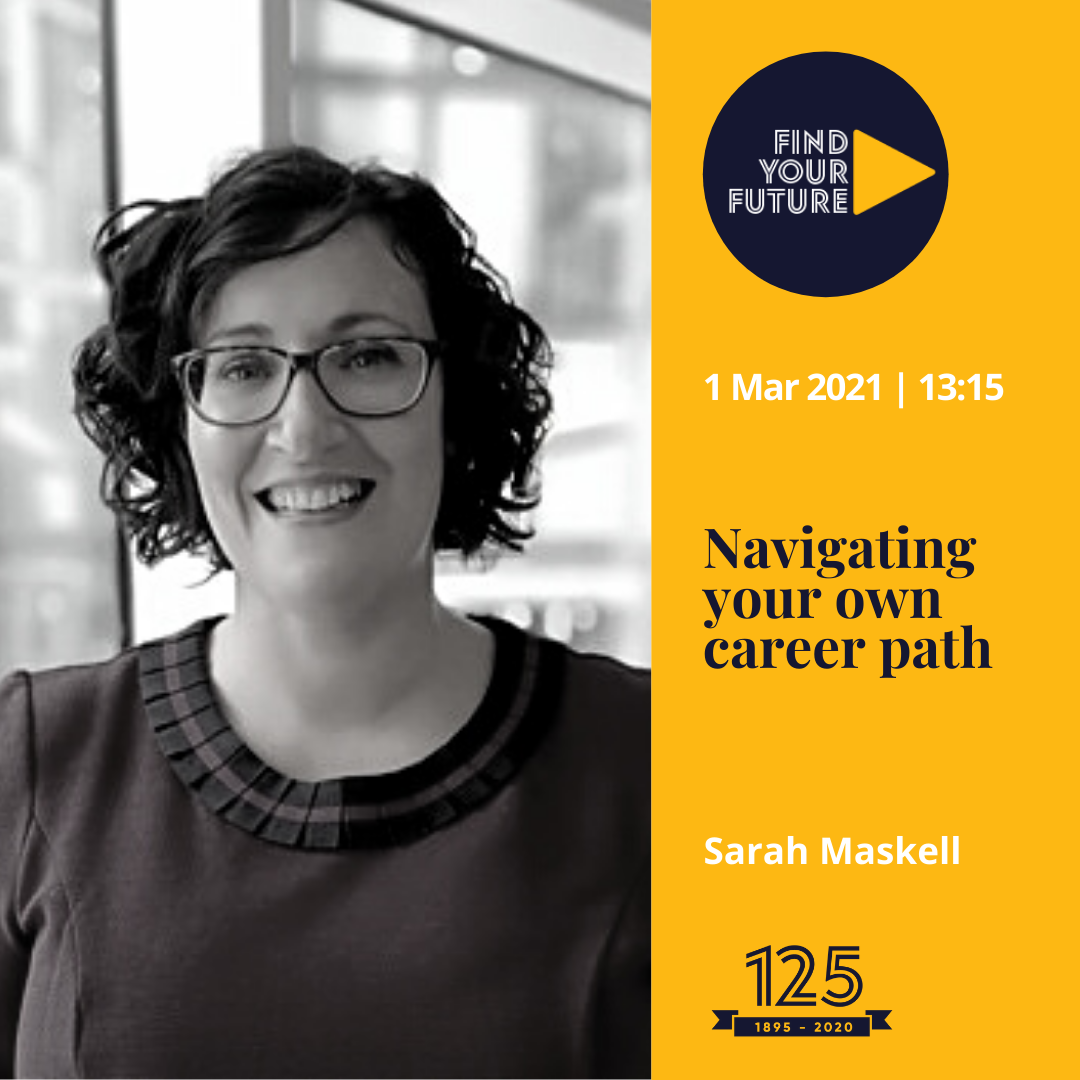 Sarah is the Director of Diversity and Inclusion Reform for the Home Office. She joined the RAF after college and served for 19 years' as a Commissioned Officer within a variety of roles - including Project Management, Deployed HR and Employee Policy - before leading the Diversity & Inclusion team. Since leaving the military Sarah has worked as the Global Relationship Manager in the D&I team at HSBC, supporting 66 countries and 250,000 colleagues before moving to a Director role in the Home Office delivering a reform programme. Sarah feels privileged to have had some incredible experiences, met a host of amazing people and gained skills that have allowed her to pivot to make sure that she has enjoyed every part of her life.
Suzanne Chesterton | An insight into the music industry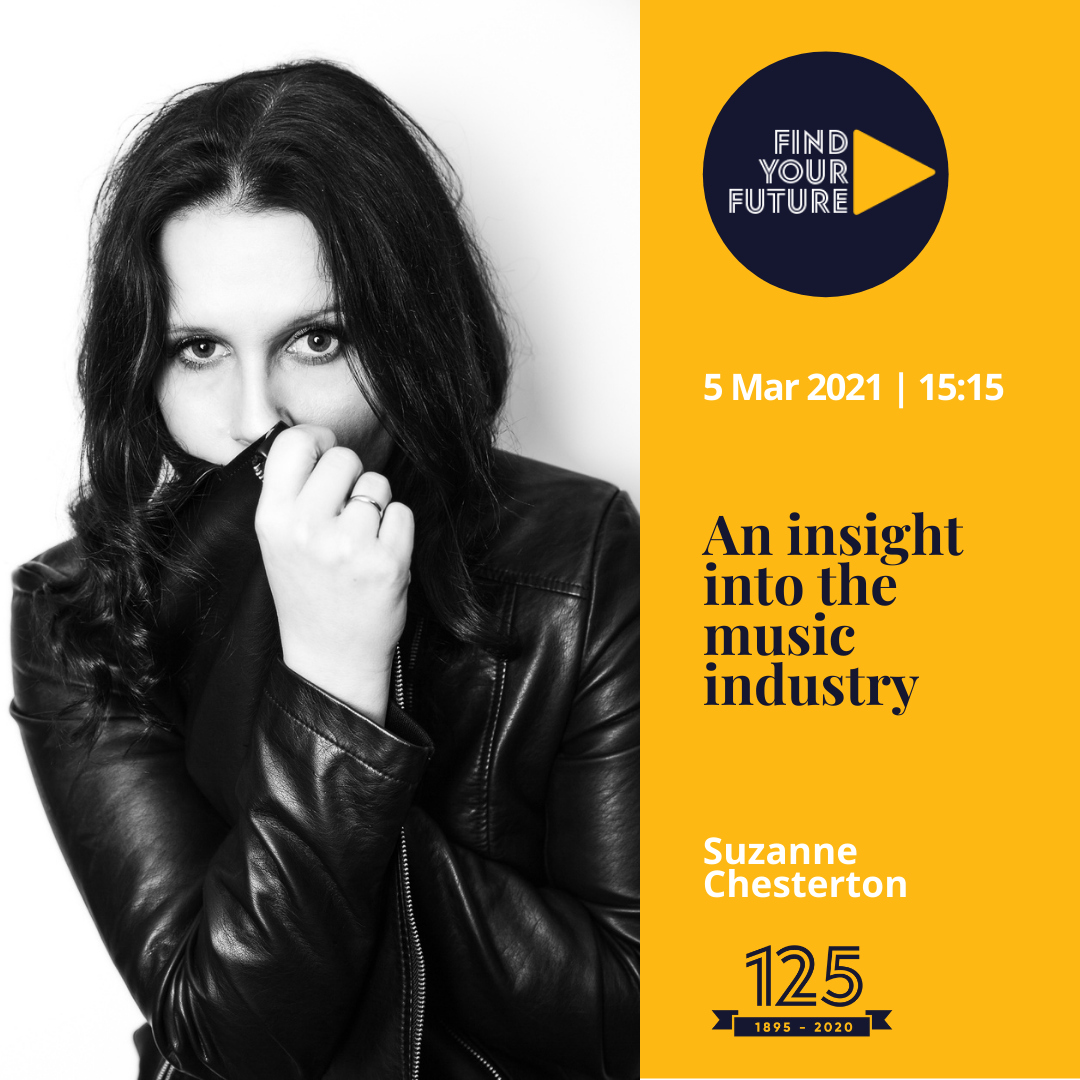 Suzanne is a multi-award-winning Music & Radio Producer with over 21 years' experience in the industry. Suzanne works alongside the likes of Crystal Waters, Paul Van Dyk and Martin Jensen, to produce some of the biggest radio shows and podcasts in the world.

Seven years ago, Suzanne left her career as a University Lecturer and Sony Academy Award winning Broadcast Journalist at the BBC and Capital FM, to follow her passion and work full time in electronic music. She was the first producer to join Distorted Productions alongside co-founders Andi Durrant and Nick Riley.
As a recording artist, Suzanne had a huge year in 2020, clocking up over 500,000 streams on Spotify under her Siskin alias, with one of the biggest vocalists in trance music – Sue McLaren. Since then, they've had five releases together and also made it onto Armin van Buuren's legendary "A State of Trance 2021" compilation.
Suzanne has a very exciting year ahead with some huge music and radio projects on the horizon, including the first ever Siskin album, releases on the world's biggest record labels and tour dates in the diary for Summer 2021.
Mohammed Chaudhri | Experian: Navigating the Economic Impacts of COVID-19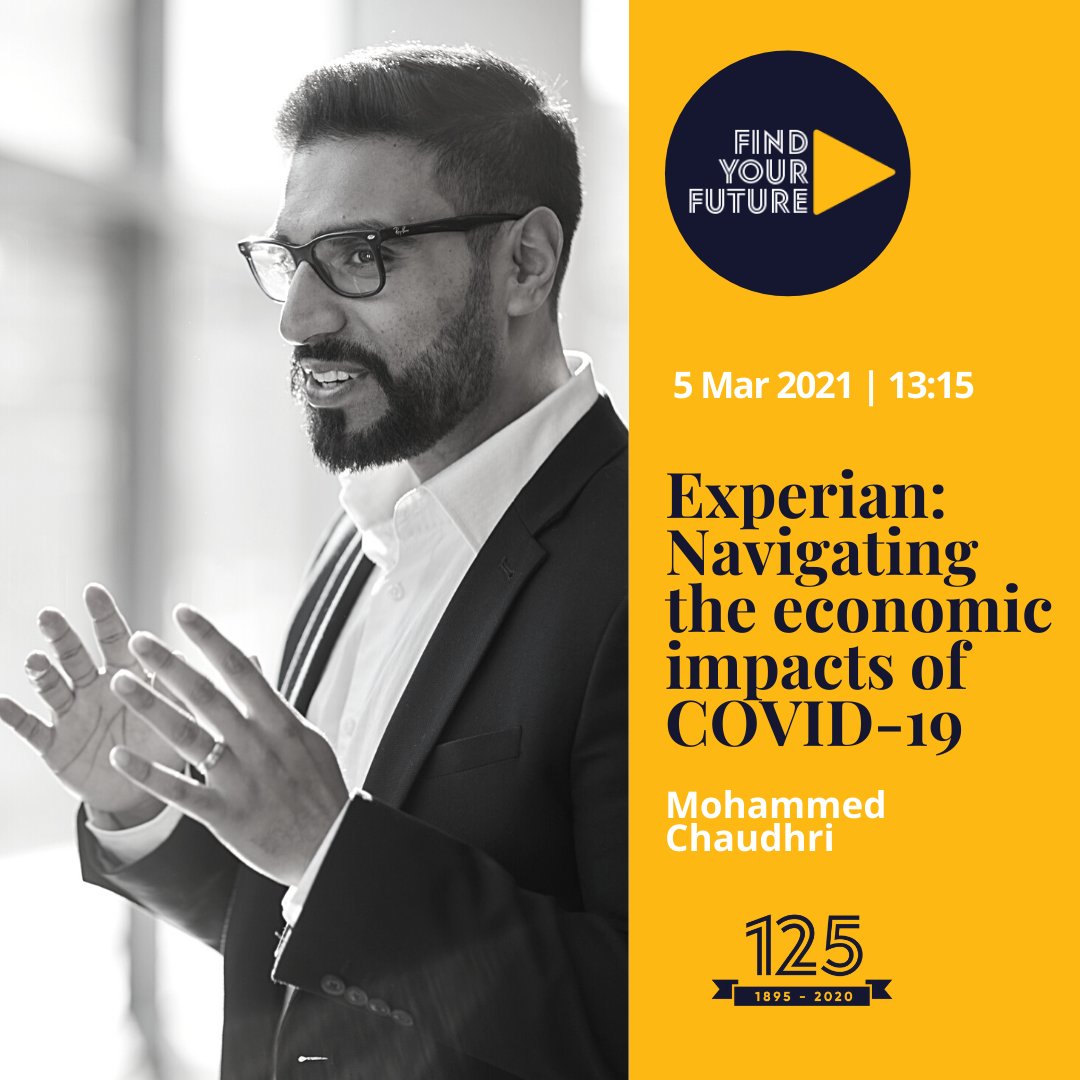 Mohammed is Experian's Chief UK Economist with over 10 years' experience of economic forecasting and analysis. He is in charge of setting Experian's view on the UK economy and credit markets.

Thanks to his forecasting, Consensus Economics ranked Experian as the most accurate UK forecaster in 2019. Alongside successfully leading the UK macro and consumer credit services, Mohammed's remit includes account management of key clients, new product innovations and supporting marketing activities.
Before joining Experian, Mohammed began his career as an economist at Her Majesty's Treasury (HMT), where he played a central role in conducting a review of the UK's monetary policy framework alongside Budget 2013. He later moved to the Financial Stability Directorate, where he led on briefing the Treasury's member of the Financial Policy Committee on macro stress testing and macroprudential tools aimed at the housing market.